A man with ALS speaks to his wife for the first time in 15 years; new earbuds control the sound around you; 3D printing embraces open source hardware; and biologists have a new software tool for genetic engineering. All of these ideas are thanks to the companies that were on display at SXSW Interactive 2016.
The annual convention and festival has wrapped up another year, but not before awarding its Innovation Awards to the companies and products that made the greatest achievements in the digital technology industry in 2015.
Winning products were selected based on four criteria: creativity, form, function, and overall experience. The companies represented all areas of technology from healthcare to entertainment, even to virtual reality and even non-profit work.
"The Interactive community extends our sincere congratulations to this year's winners for this esteemed industry accolade and well-deserved recognition," said Mason Stewart, SXSW Interactive Innovation Awards Coordinator. "We wish all the SXSW Interactive Innovation award winners continued success in their current and future endeavors."
Click the image below for more information and video on SXSW's favorite innovations this year.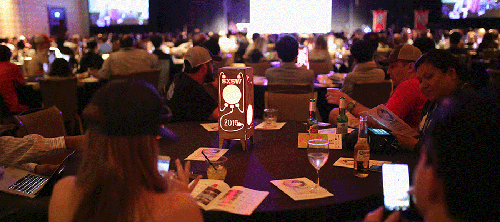 Audience members at the 2016 SXSW Interactive Innovation Awards. Click through the slides to see a list of this year's winners.
(Image source: Heather Kennedy / WireImage)
Chris Wiltz is the Managing Editor of Design News