Flexible, stretchable, body-worn electronics are finally moving outside of the healthcare space. Technology company MC10 has made big waves in medical technology in the last few years because of its innovative, body-worn skin patches –- often called "tattoo-like" because they are ultra-thin (thinner than a human hair) and able to bend and stretch along with the skin. The company has held up its stamps, which utilize near-field communication (NFC) technology, as being revolutionary for patient monitoring and even drug delivery.
But now, thanks to a recently announced partnership with PCH, a custom products designer, MC10's 0.05-mm-thick Wearable Interactive Stamp Platform (WiSP) will be available for commercial applications, as well. "The MC10 team focuses its energy and ideas on improving human health, but our technology has a wide array of other potential applications," Ben Schlatka, co-founder and VP of Corporate Development MC10 told Design News via email. "This partnership enables an exploration of the breadth of consumer and industry use cases that could benefit and improve user experience with the WiSP platform."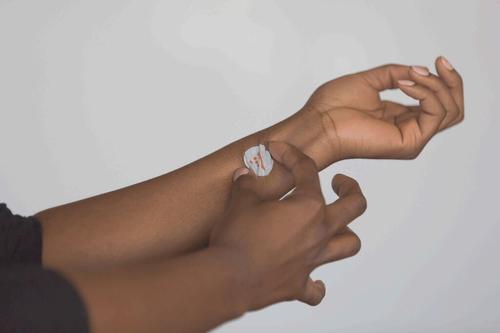 MC10 has partnered with PCH to make its WiSP flexible, stretchable electronic patch technology available for consumer applications.

(Source: MC10 Inc. and PCH)
The first of these products is the My UV Patch created for beauty company L'Oréal which will be leveraging WiSP technology to create, "the world's first stretchable electronic designed to measure individual UV exposure." The patch, which measures 1 square inch and is only 50 µm thick, adheres directly to the skin and contains an antenna and NFC chip along with photosensitive dyes that will change color when exposed to UV rays. Using an accompanying app, users can take a photo of the patch with their smartphone and analyze it to determine their level of sun exposure.
"The WiSP platform is a cost-effective technology on which brands can design interactive, customizable experiences, that go beyond wrist-worn wearables, at large consumer scale," Andre Yousefi, co-founder of PCH Lime Lab, the design engineering division of PCH, told Design News. "We refined the WiSP manufacturing process in our work with L'Oreal on the My UV Patch and are now capable of engineering the technology to meet more complex requirements, which opens up new applications in new markets."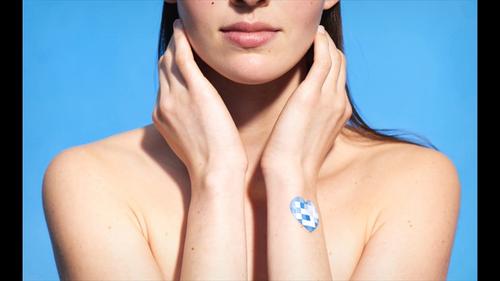 L'Oréal's My UV Patch will be the first consumer product to utilize MC10's WiSP technology.
(Source: L'Oréal)
For Schlatka that includes a wide range of industries, certainly healthcare, but he commented that MC10 is also particularly excited about entertainment and theme parks. Imagine being able to track individual participants in a theme park attraction to offer a more personalized experience. By employing NFC, WiSP can also find applications in cashless payments (think Apple Pay for your body), security (using the stamps for room access), and live events such as sports and music.
Yousefi said that WiSP can be engineered to meet the demands of different markets so it can be made more durable or longer-lasting depending on its application. Athletics, rescue, or military applications may require more robust versions of WiSP than say beauty or entertainment, for example.