A new high-pressure injection molding technology produces near-net shape parts with 2-inch-thick walls from high-performance materials like PEEK, PAI, and carbon-filled polymers. Parts show no voids, sinks, or porosity, have more consistent mechanical properties, and are stronger than those made with either extrusion or compression molding.
Piper Plastics developed the near net shape proprietary process and equipment to cut the cost of machining large parts made of expensive high-performance materials, Dave Wilkinson, materials engineering manager, told Design News. "In the past, if you wanted to make large plastic parts more than 1/4-inch thick, you were limited to using either extrusion or compression molding to get that stock shape, which you'd then machine into a part," he said. "But if you try to injection mold a part that's anywhere close to 1/4-inch thick, you get voids, sinks, or porosity. With this new process, you can make parts up to 2-inch thick without any of those problems."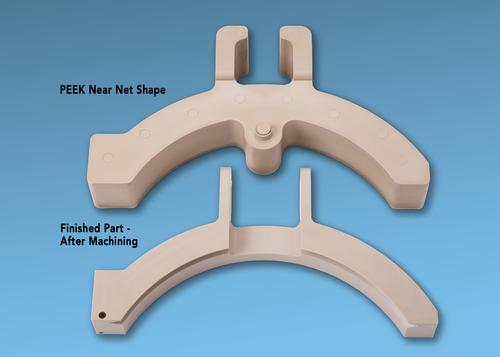 Machining a polymer part from a rectangular plate usually results in about 80% wasted material. Using Piper Plastics' new near-net shape high-pressure injection molding process results in 15% or less material waste. It's especially suited to larger parts, and weights of up to about 6 lb per blank. This PEEK near-net shape part (top, before machining) weighs only 1.82 lb and measures 34.66 cubic inches. Making it from a blank of the same material would waste 114.03 cubic inches of material weighing 5.31 lb.
(Source: Piper Plastics)
Bigger parts and weights of up to 6 lb per blank are the best candidates for this process, especially those with complex geometries and varying wall thicknesses, said Wilkinson. Compared to extruded shapes, parts made of high-performance thermoplastics, whether filled or unfilled, are typically 15% to 20% stronger. Compared to compression molded shapes they're 50% stronger. Mechanical properties are also much more consistent than in parts made with either of those processes.
"Many customers are coming from the world of metallics," said Wilkinson. "In that world, you can take a metal data sheet to the bank: the properties on it are all tested, all uniform, because the materials are standard. But in the plastic world, it's the opposite. If you were to compression mold a carbon- or glass-filled product you'd lose about 70% to 75% of the material's mechanical properties per the data sheet. In extrusion, it's a bit better: there you'd lose about 50% of the mechanical properties. With this process, we can get 70% to 100% of data sheet properties."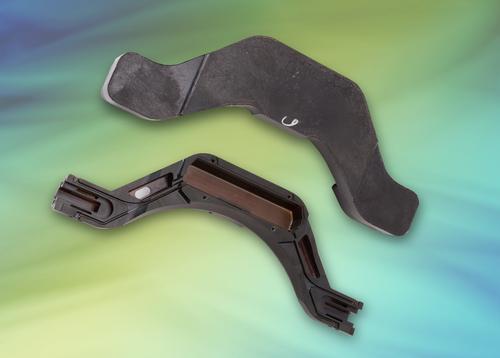 This bracket's design requirements were a flexural modulus of 1,000,000 psi, tensile strength of 25,000 psi, good impact strength, density of 1.35 g/cm3 or less and it had to be cost effective compared to aluminum. The component also has a thin cross-section machined in the center of the part, so property loss in the internal regions was not prohibited. Using the near-net shape high-pressure molding process, brackets were created that were 10 inch wide x 1.25 inch thick, with center regions 0.06 inch thick, exhibiting 0% porosity on loss of properties in the internal region.
(Source: Piper Plastics)
Piper Plastics can also do small batch runs to make sure the right polymer or blend has been selected for an application. "With this technology, we can mold custom blanks from more than 3,000 polymers and compounds," said Wilkinson. "We can also come up with a compound just for one application." That's in contrast to distributors, which he said usually carry only about 50 different types of engineering plastics. Typical high-performance resins used in the process include PEEK, PEI, PAI, PPS, PEK, TPI, and carbon-filled high-strength polymers.
Wilkinson said the company invented the new technology because it was challenged to come up with a high-pressure injection-molding process. "Our machine shop couldn't get high-quality plastics in these filled compounds." he said. "We bought several different injection molding machines, tore them apart, and rebuilt them, adding proprietary hydraulic, feed, and computer systems. Our next technology will also be based on an injection-molding platform, but it's a different process, with different pressures than conventional injection molding."

READ MORE ARTICLES ON PLASTICS:
Ann R. Thryft is senior technical editor, materials & assembly, for Design News. She's been writing about manufacturing- and electronics-related technologies for 28 years, covering manufacturing materials & processes, alternative energy, and robotics. In the past, she's also written about machine vision and all kinds of communications.