After two days of live pitches with a panel of entreprenuers, investors, and influencers, the winners of the South By Southwest (SXSW) 2015 Startup Accelerator competition have been announced. Winners from six categories: Enterprise and Smart Data Technologies; Digital Health and Life Science Technologies; Innovative World Technologies; Wearable Technologies; Entertainment and Content Technologies; and Social Technologies were announced along with three special category awards for Best One-Minute Pitch, Most Innovative Startup, and the Bootstrap Award for the finalist company that achieved the most with the fewest resources.
MORE FROM DESIGN NEWS: The Path to Innovation Success Is Never Straight
This year a general trend emerged around technologies to augmenting more traditional industries like manufacturing, real estate, healthcare, and farming. Event producer Chris Valentine called this year (the seventh of the competition) the strongest yet, with a strong showing of international startups; six of the 18 finalists -- chosen from 48 picked to participate in SXSW's Startup Village -- were international companies.
In addition to exposure to potential investors, winners received a $4,000 prize as well as badges to next year's SXSW Interactive Festival.
Click the image below for a slideshow of the nine winners: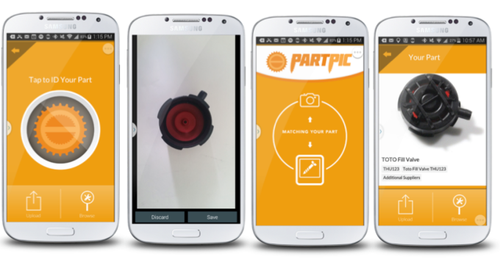 Partpic is a mobile solution for the manufacturing industry -- allowing users to identify and order replacement parts simply by snapping an image of the part with a smartphone. The app can be used both for enterprise and home use for the DIY set interested in repairing appliances around the house.
(Source: Partpic)
Chris Wiltz is the Managing Editor of Design News.