Aircraft and automotive applications continue to lead applications for composites product development, as well as a lot of the effort for making processes, especially carbon fiber composite production, simpler and cheaper for manufacturing higher volumes. This batch of new composite products and technologies includes several based on natural fibers, as well as some made with novel materials and processes.
The worldwide carbon fiber and carbon fiber-reinforced plastic market is projected to reach $35.75 billion US by 2020, with a compound average growth rate of 9.9% between 2015 and 2020, according to a recent RnRMarketResearch study. This report finds that automotive is the fastest growing application for these composites. The most common automotive components incorporating carbon fiber composites are exterior body parts, hoods, and test plates. North America is the fastest-growing market for carbon fiber composites in both dollar value and volume, dominated by the US. The reasons are a high economic growth rate, increasing manufacturing industries and carbon fiber composites patents, new product developments, expansions in capacity, and new plants being established by leading suppliers.
Click on the image below to start the slideshow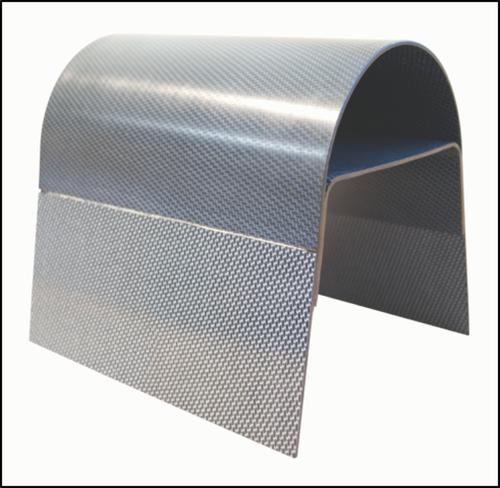 UK-based AGC AeroComposites' CoFusion project demonstrated that thermoformed components made of carbon/polyphenylene sulfide composite can be welded to form complex assemblies, by incorporating resistive composite welding elements containing no metal meshes or inserts. Both coupons and components showed consistently high strength and fatigue. The process uses low-cost equipment and materials, and achieving welding temperatures takes only three minutes. Curved and flat panels can be reliably welded, with welds of high quality and no voids, which passed standard ultrasonic non-destructive testing. Welded top-hat sandwich panels were structurally compared via torsional strength and fatigue testing to identical riveted parts, showing higher stiffness and greater strength five times that of riveted components. Fatigue performance was also significantly superior, with no damage at 350,000 cycles compared to riveted parts that only survived 50,000 cycles.
(Source: AGC AeroComposites)
READ MORE ARTICLES ON COMPOSITES:
Ann R. Thryft is senior technical editor, materials & assembly, for Design News. She's been writing about manufacturing- and electronics-related technologies for 29 years, covering manufacturing materials & processes, alternative energy, and robotics. In the past, she's also written about machine vision and all kinds of communications.