The creators of the free, searchable Senvol Database have begun issuing a new set of industrial additive manufacturing (AM) and 3D printing tools for engineers wanting to use additive technology for end-production. The Senvol Indexes are datasets for AM material characterization, and the only source of commercially available data of this kind, Senvol president Annie Wang told Design News.
Launched at last month's 2016 Additive Manufacturing Users Group (AMUG) meeting, the Indexes, like the Database, were developed entirely without involvement from machine OEMs or material suppliers. "Users of the Database kept approaching us and asking for even more information, above and beyond what they can find on a spec sheet," Wang said.
Senvol wants to reduce the barriers of entry for companies interested in going into additive for end-production "If you're doing that, you care about material properties and thus how you got those material properties," she said. "You want to know what those properties are, and what the process parameters are, the recipe to make that part. We go into excruciating detail about those. You also care about characterization of the feedstock, like particle size distribution."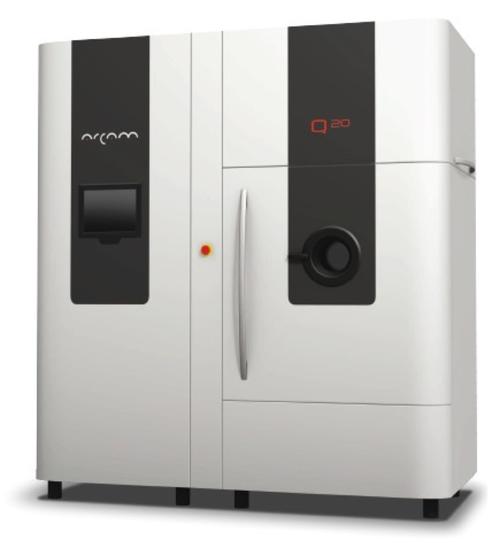 The latest Senvol Index is for Arcam (AP&C) Ti6Al4V powder processed on the Arcam Q20 additive manufacturing (AM) system, shown here. It includes data such as material properties, process parameters, powder characteristics, and the effects of hot isostatic pressing. The datasets were created for engineers who want to do AM material characterization for end-production.
(Source: Arcam)
For example, the latest Index is for Arcam (AP&C) Ti6Al4V (45 - 106 microns) powder processed on the Arcam Q20 machine. It includes data such as material properties, process parameters, powder characteristics, and the effects of hot isostatic pressing. You can see a detailed overview of what's included here.
Data for this newest Index has been gathered according to aerospace best practices, meaning that all test specimens have been manufactured and post-processed at facilities certified to AS9100 and tested at a NADCAP- and A2LA-accredited test lab. "We've seen firsthand what aerospace companies want," said Wang. "They're all doing material characterization. One company would characterize Ti6Al4V on a specific machine, and then another company would do the exact same thing. Because we understand the complexity of AM very well, we developed the Index as a way to replace the duplicative efforts of all these companies."
READ MORE ARTICLES ON 3D PRINTING:
Since different industries use very similar materials -- for example, Ti6Al4V is also used in medical implants -- the dataset can be shared between aerospace and medical and any other industry that wants to use this material on the Arcam Q20 3D printer. This particular data set can be valuable for additional industries such as defense, energy, and oil & gas.
For each Senvol Index, the specific tests conducted and the quantity of specimens tested vary. They typically include results from various tests for mechanical, fatigue, thermal, and physical properties. All of them include material properties of test specimens that were made on a specific AM machine; values of the process parameters that were used to achieve those material properties; and properties of the specific feedstock used.
Although Wang wouldn't reveal how many Indexes are available, she said there are many. Their prices vary because the cost of developing them varies: some materials are more expensive than others, and the number of coupons made is different.
Results from the Indexes are traceable, statistically significant, conform to industry standards where applicable, and use certified and accredited facilities. The Indexes can be used in a variety of ways. A design engineer in a particular industry can see what properties to expect from specific materials and machines. Companies may go on to optimize parameters or feedstock, for example, to make bigger or stronger parts or a faster process. "But you must start with a baseline, a standard," said Wang.
Ann R. Thryft is senior technical editor, materials & assembly, for Design News. She's been writing about manufacturing- and electronics-related technologies for 28 years, covering manufacturing materials & processes, alternative energy, and robotics. In the past, she's also written about machine vision and all kinds of communications.