It's slowly becoming more well known that plastic waste is becoming a major environmental hazard, and some designers and engineers are trying to find ways to replace plastic used for packaging and other common applications with more biological and eco-friendly alternatives.
To that end, a Japanese design group called AMAN is exploring how agar, a gelatinous substance found in seaweed, can be used as a basis for one such alternative through their project called Agar Plasticity.
Anyone who enjoys or is familiar with Japanese food knows that seaweed is a part of the cuisine, and this commonplace use is what inspired designers to eye it for their project, they said in an article on the Lexus website. Lexus sponsors the Lexus Design Award, an annual international design competition for which the AMAN team — Kosuke Araki, Noriaki Maetani, and Akira Muraoka — are finalists.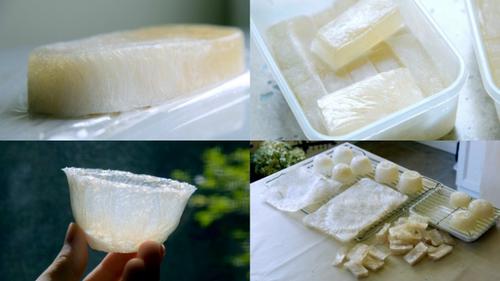 A Japanese design group is developing a material based on agar, a gelatinous substance found in seaweed, to replace plastic packaging. The group AMAN, led by Kosuke Araki, Noriaki Maetani, and Akira Muraoka, and their project Agar Plasticity are finalists in an annual design competition sponsored by Lexus.
(Source: AMAN)
"Seaweed-derived agar is traditionally consumed as food in Japan, and used in scientific and medical fields worldwide," Araki said in its description of its project. "Sold in a dry state, agar shows porous, feathery structure and is very light despite its volume. We have taken notice of these features and have been exploring its possibility as packaging material."
To extract the material for use, designers boil specific types of red algae and then let the soup formed from this process dehydrate. To come up with different types of materials for packaging and cushioning — the latter to replace materials like bubble wrap and Styrofoam —depends on how the substance is dried and what type of algae is used, according to Araki.
For a soft cushioning structure, it's frozen; for stiff film-like state, it's compressed," he said. "Because agar is also moldable, it was proposed not only as a cushioning material, but also as packaging material. We have also explored the possibility of an agar-derived plastic material," Araki said.
READ MORE ARTICLES ON MATERIALS:
Specifically, the AMAN team is designing a box-like package with cushioning that's been derived from the freezing dehydration process that can be used to package delicate objects, such as bottles, Araki said in a published report. Ultimately the team would like to replace a number of disposable plastic products — such as shopping bags and other ubiquitous plastic packaging — with material derived from agar, he said.
The material developed by AMAN is completely biodegradable and can be disposed of in an "environmentally friendly way," according to designers. This is unlike plastic, which can take 450 to 1,000 years to degrade.
Elizabeth Montalbano is a freelance writer who has written about technology and culture for more than 15 years. She has lived and worked as a professional journalist in Phoenix, San Francisco, and New York City. In her free time she enjoys surfing, traveling, music, yoga, and cooking. She currently resides in a village on the southwest coast of Portugal.