There might be better ways to get kids to recycle than to ask them to dig through and analyze their school's trash. But that's not what the Bethesda, Md.-based National Security Agency (NSA) seems to think.
In honor of Earth Day, the NSA has launched the STEM Recycling Challenge in Maryland schools to encourage kids to think about where the garbage they throw out every day actually goes. The agency has also introduced "Dunk," a muscular blue cartoon recycling bin wearing shorts and sneakers.
A number of media outlets have suggested Dunk would inspire terror rather than recycling, calling the mascot "disturbing" and something that "will haunt your dreams."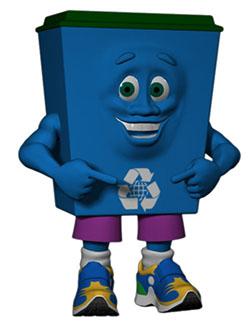 (Source: National Security Agency)
Nonetheless, the NSA has given Dunk a mission, and as part of the challenge, the mascot is asking kids to conduct what's called a "waste audit" at their respective schools, according to a video narrated by Dunk and posted on the NSA website. A waste audit, according to Dunk, means kids should go through trash at their school, analyze it and find out how much can go to a recycling center instead of a landfill.
There is also math involved in the challenge, as Dunk detailed in the video.
"Calculate how much of your school's waste you can send to a recycling center instead of it going into a landfill," he said. "This will be your waste stream diversion rate. Then calculate and compare the cost to remove waste from your school when sending it to a landfill versus sending it to a recycling center. Next, calculate the amount of money that would be generated from recycling that could go back to your school and be spent on supplies, new equipment, or activities.
Dunk also asks kids to identify opportunities for increased recycling and waste diversion as part of the challenge, encouraging them to get creative in thinking of ways to reuse items they might otherwise throw away after one use.
MORE FROM DESIGN NEWS: Survey: Engineers Want Better Plastics Performance, Recycling Technology
In addition to introducing Dunk and the challenge, the NSA also took the opportunity to promote some of its own recycling efforts as it encouraged children to help their schools improve theirs.
The NSA recycles 13 to 14 million pounds of material per year, according to the video. From 2009 to 2012, the agency consistently diverted 65% to 75% of all of its waste away from landfills to recycling centers. The NSA also began recycling its ceiling tiles in 2008 and is now a national leader in this type of recycling, with its tiles being reused in paper products like pizza boxes.
Though I'm sure the NSA is sincere in its efforts to promote recycling and means well by launching Dunk and the challenge, I'm not sure either will be a successful way to get kids to recycle more. But the agency's message is in the right place, and kids and adults alike should be mindful of how they dispose of their garbage as the world celebrates another year of trying to keep the earth greener and cleaner.
Elizabeth Montalbano is a freelance writer who has written about technology and culture for more than 15 years. She has lived and worked as a professional journalist in Phoenix, San Francisco, and NYC. In her free time she enjoys surfing, traveling, music, yoga, and cooking. She currently resides in a village on the southwest coast of Portugal.
Design engineers, New England's premier design and manufacturing event, Design & Manufacturing New England, will take place in Boston, May 6-7, 2015. A Design News event, Design & Manufacturing New England is your chance to meet qualified suppliers, get hands-on with the latest technologies, be informed, and expand your network. Learn more here.