New 3D-printed polymer materials that can remember their original shape provide significant potential for design innovations in solar panels and targeted medication delivery, a US-Singapore joint research team said.
Engineers from MIT and Singapore University of Technology (SUTD) used light to print the 3D structures that can spring back to their original forms even after being stretched, twisted, or bent at extreme angles. These so-called "shape-memory polymers" take mere seconds to return to original form after being heated to a certain temperature, researchers said.
Nicholas X. Fang, an associate professor of mechanical engineering at MIT who led the project, said that polymers in which heat can be a trigger for a change in form can be applied to a number of applications. One use could be for soft actuators that can turn solar panels toward the sun for higher efficiency of energy harvesting, while another would be tiny drug capsules that can be designed to give target-specific medication at early signs of infection, he said.
"We ultimately want to use body temperature as a trigger," Fang said. "If we can design these polymers properly, we may be able to form a drug-delivery device that will only release medicine at the sign of a fever."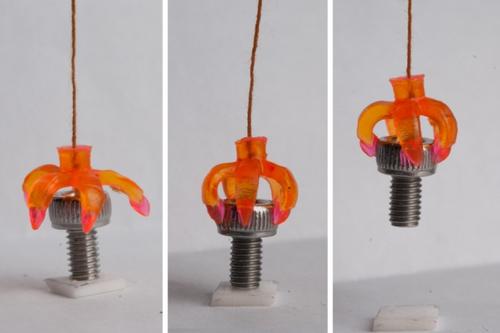 In this photo a 3D-printed multimaterial shape-memory minigripper, which is comprised of shape-memory hinges and adaptive touching tips, grasps a cap screw.
(Source: Qi (Kevin) Ge, MIT)
Project collaborators who also co-authored a paper published in Scientific Reports include MIT-SUTD research fellow Qi "Kevin" Ge, now an assistant professor at SUTD; former MIT research associate Howon Lee, now an assistant professor at Rutgers University; and other engineers from SUTD and Georgia Institute of Technology.
The team used 3D printing -- or what Ge described as "4D printing" since it adds a fourth dimension of time to the scenario -- to develop active materials in various sizes. These shape-memory polymers have the ability to stretch and deform drastically in response to environmental stimuli such as heat, light, and electricity. They also can switch between two states -- a harder, low-temperature, amorphous state, and a soft, high-temperature, rubbery state.
---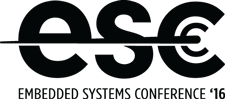 3D Printing's Brave New World. Ann Thryft will lead a panel discussion on one of the hottest topics in manufacturing: 3D printing. Come hear "3D Printing: The Brave New World of Manufacturing" at the Embedded Systems Conference, Sept. 21-22, 2016 in Minneapolis. Register here for the event, hosted by Design News' parent company, UBM.

---
This quality allows researchers to freeze the bent and stretched shapes at room temperature; the materials will then "remember" their original form when heated and snap back to it, they said. The characteristic makes the materials well-suited not only for solar panels or drug-delivery mechanisms, but also biomedical devices, soft robotics, wearable sensors, and artificial muscles, according to the team.
Researchers wanted to custom-design structures with details finer than current 3D-printing methods would allow, and so they developed a new 3D-printing process, called microstereolithography, for their work. The process uses light from a projector to print patterns on successive layers of resin.