Industrial 3D printer maker ExOne, known for its binder jetting technology, has introduced fine powder printing capability for its Innovent printer, designed for R&D teams and education labs. These printers can now print with industry-standard metal and ceramic powders of less than 10 microns.
"Previously, we could reliably print larger powders that had a minimum grain size of 25 microns," Bob Wood, ExOne's director of direct materials business development, told Design News. "The new Innovent upgrade allows our customers to use more commercially available powders and achieve better density, surface finish, and smaller feature sizes.
The industrial-grade, laboratory-sized Innovent 3D printer is designed for industrial R&D, commercial and laboratory research, and educational institutions. The binder-jetting technology it employs is similar to ExOne's M-Flex, which uses a print head to selectively dispense micro-droplets of specially engineered binder into very thin layers of powdered metal.
The printer's build box size of 160 mm x 65 mm x 65 mm (6.3 inch x 2.5 inch x 2.5 inch) is large enough for prototyping and for the production quantities needed for parts typically made using metal injection molding and powder metallurgy. The machine also makes it possible to test materials properties with a specific build box for the technical qualification of materials, combined with a smaller overall platform size than other industrial-grade 3D printers.
---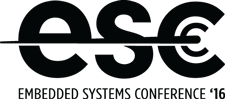 Designers & Innovators. Learn more about some of the latest designers and innovators and what they're up to at ESC Silicon Valley, Dec. 6-8, 2016 in San Jose, Calif. Register here for the event, hosted by Design News' parent company, UBM.

---
ExOne is offering both a fine powder Innovent 3D printer, as well as a fine powder upgrade package for existing Innovent machines. The company says it plans to apply these enhancements to its M-Flex, as well as to its next-generation larger format printing system.
The company has also added its second single-metal alloy for industrial 3D printing applications to its materials portfolio, a new stainless-steel 316L powder. This is a 300 series stainless steel, which is used in several industrial markets ranging from automotive to chemical processing equipment to surgical instruments. ExOne is accepting product pre-orders from customers for job shop printing, with full commercialization expected in the first quarter of 2017.
READ MORE ARTICLES ON 3D PRINTING:
Ann R. Thryft is senior technical editor, materials & assembly, for Design News. She's been writing about manufacturing- and electronics-related technologies for 29 years, covering manufacturing materials & processes, alternative energy, and robotics. In the past, she's also written about machine vision and all kinds of communications.