Michelle Oyen, a bioengineer in the Department of Engineering at Cambridge University, has synthesized a material that mimics eggshells and bone that can be used for a number of applications, including a construction material with a low carbon footprint, she said.
Oyen said she often flies between the UK and the US, and feels guilty for the effect her traveling has on the environment due to its high carbon footprint. "I'd always assumed, as many of us do, that air travel is a huge contributor to carbon emissions," she said.
However, the production of concrete and steel causes far more carbon emissions than air travel -- between them, they are responsible for as much as a tenth of worldwide carbon emissions because they must be processed at very high temperatures, which uses a lot of energy, Oyen said. Knowing this inspired her to turn to nature to consider how to create material with less environmental impact for the construction of buildings.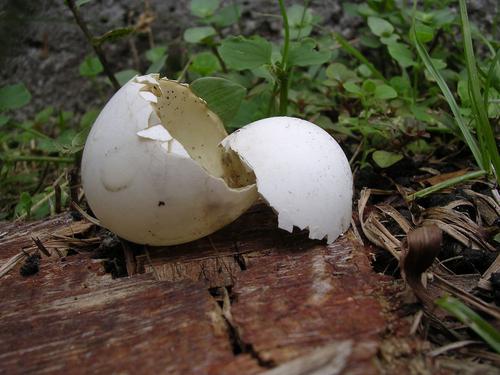 A researcher at Cambridge University has mimicked eggshell and bone to create a new synthetic material as a more eco-friendly material for construction buildings and skyscrapers.
(Source: Wikipedia Commons)
"What we're trying to do is to rethink the way that we make things," she said. "Engineers tend to throw energy at problems, whereas nature throws information at problems -- they fundamentally do things differently."
The material also could be used in other applications, such as for medical implants, Oyen said.
To develop the material, the team mimicked the same balance of proteins and minerals as in real bone and eggshell, the proportions of which -- in bone, at least -- are roughly equal, according to Oyen. Mineral gives bone stiffness and hardness, while protein gives it durability and resistance to fracture. Bones are also self-healing, another quality researchers eventually want to bring to the synthetic material, she said.
To make the material, researchers template the mineral components directly onto collagen, the most common protein in the animal world, Oyen said. This process brought up an interesting aspect of the composition of the material that could contribute to its strength with further exploration, she said.
READ MORE ABOUT MATERIALS ON DESIGN NEWS:
"One of the interesting things is that the minerals that make up bone deposit along the collagen, and eggshell deposits outwards from the collagen, perpendicular to it," Oyen said. "So it might even be the case that these two composites could be combined to make a lattice-type structure, which would be even stronger -- there's some interesting science there that we'd like to look into."
Another benefit of the synthetic eggshell-bone material is that the process to make IT occurs at room temperature, meaning it takes very little energy to produce and can also scale up, she said.
Oyen and the team will continue to experiment with the material in particular to find a way to replace collagen -- which is derived from animals -- that can be replaced with a synthetic protein or polymer.
Elizabeth Montalbano is a freelance writer who has written about technology and culture for more than 15 years. She has lived and worked as a professional journalist in Phoenix, San Francisco, and New York City. In her free time she enjoys surfing, traveling, music, yoga, and cooking. She currently resides in a village on the southwest coast of Portugal.