Developers of Internet of Things (IoT) products are better served if they focus on their applications, rather than on underlying software issues, a solutions architect will tell attendees at the upcoming Embedded Systems Conference in San Jose. 
"Too many designers are keeping their heads down on the steps in front of them," Jonathan Heath, product marketing manager for Synapse Wireless, Inc., told Design News. "But they should be looking up and focusing in on the application pieces that make up their secret sauce."
Heath, who will host a session titled, Rapid IoT Software Development Using Embedded Python, said that it's tempting for experienced designers to want to do it all themselves, and then get tangled up in the complexities of routing algorithms and microcontroller interfaces. Instead, he said, it's better for developers to use existing embedded platforms that help them tie their IoT applications to the cloud.
Without the help of such platforms, they will lose valuable time in getting their product to market, he said. "It's going to take them longer to get to the same place," he told us. "The first six months will be spent on solving problems – the routing algorithms and device interfaces. And six months later they say, 'Now we can start on the real stuff."
At the show, Heath will demonstrate how to use embedded platforms to build an IoT application and quickly get products to market. Using ESC's Hello There! badges as targets, he will show attendees how to write code to interface to the board's accelerometer and LED matrix display. He encourages attendees to bring their Windows-based laptops to the session, so they can install development tools. The demo will be done, he said, using tools from Synapse's Things Platform, along with the Python programming language and Synapse's SNAP operating system. "We'll have some fun with the peripherals, and then fire up the onboard radio to bring your board into the connected world," Heath wrote in a description of the session.
Heath said that Synapse's customers have used its tools to build working, proof-of-concept prototypes in as little as a week. By doing so, he said, customers are able to get a better handle on the scope of the project and the resources needed to finish it.
"We're trying to show that in order to develop IoT applications you need a system that that includes an easy way to program," he told us. "You need different tools at each layer that you can build your applications on."
---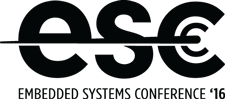 Design TechnologiesLearn more about electronics and security at ESC Silicon Valley. December 6-8, 2016 in San Jose. Register here for the event, hosted by Design News' parent company UBM.
---
Senior technical editor Chuck Murray has been writing about technology for 32 years. He joined Design News in 1987, and has covered electronics, automation, fluid power, and autos.