Yaskawa, Pilz, and TDK-Lambda have introduced new automation and motion control equipment engineered to meet the ongoing trends of faster, more efficient, safer, and environmentally compliant equipment.
Yaskawa's Sigma7 Series of Servos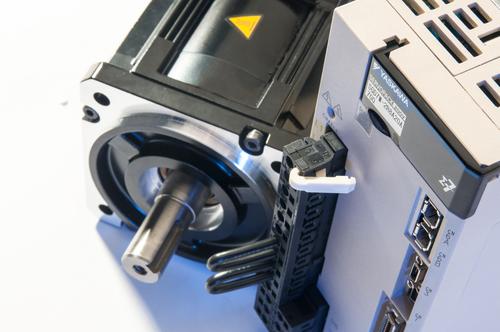 Yaskawa's new Sigma-7 line of rotary, linear, and direct drive servos has twice the bandwidth and faster command response than the Sigma-5 line.
(Image source: Yaskawa)
Yaskawa's US-based Drives & Motion Division has introduced Sigma-7, a new line of rotary, linear, and direct drive servos and amplifiers that have been designed to bring increased operating efficiency to motion tools.
Yaskawa notes that the new line doubles the bandwidth of the company's earlier Sigma-5 servos, while providing quicker response to system commands. The line includes 18 Sigma-7 products that cover a range of motion control applications, with rotary servos from 3 W to 55 kW in output.
Users can choose from two direct drive servos and four linear products, including a SigmaTrac option designed for easy bolt-on, plug-in implementation. Sigma-7 Servopack amplifiers offer the option of interface via EtherCAT, Mechatrolink, or analog connections. The line also includes a SigmaLogic Servopack that sequences motion using the Add-On Instructions (AOIs) used by programmable logic controllers.
Safe Motion Monitoring From Pliz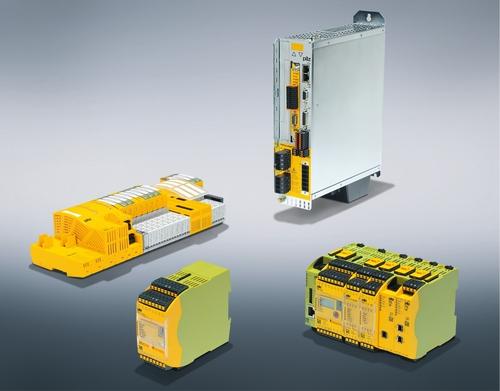 Pilz USA now offers safety monitoring solutions in compliance with the European Union (EU) Machinery Directive
(Image source: Pilz USA)
In accordance with the recent European Union (EU) Machinery Directive, when a drive is brought to a standstill, the operating status must be safely monitored and maintained. The motion monitoring safety functions – whether external or drive-integrated – must also be guaranteed. The EU interprets "safe" in terms of functional safety from the relevant machinery safety standards EN 61508 and EN ISO 13849-1. Pilz USA now offers EU-compliant safety monitoring solutions designed for specific applications.
Safe motion control can be implemented through speed monitoring, and it is used to protect operating and maintenance staff. To ensure this safety, the monitoring system detects potentially hazardous movements and applies safe and appropriate countermeasures that can be initiated in time. Speed monitoring is also used for plant protection, to avoid mechanical damage from rapid movements in a continuous production process.
TDK-Lambda's KWS-A Board Mount AC-DC Power Supplies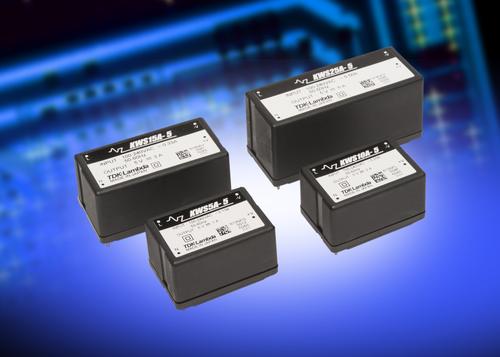 TDK-Lambda's KWS-A power supplies are targeted at control and monitoring equipment, among other applications.
(Image source: TDK-Lambda)
TDK-Lambda has released the KWS-A power supply series that is designed for use in control and monitoring equipment as well as other industrial applications. The encapsulated series is comprised of four power levels and four output voltages: 5V, 12V, 15V, and 24V. The 5W and 10W models measure 38.1 x 25.4 x 21.5mm, the 15W 50.8 x 25.4 x 24mm, and the 25W models 63.5 x 25.4 x 29mm. The KWS-A is rated for Class II operation and requires no earth ground connection.
The KWS-A series accepts an input voltage of 85 to 265 V AC, 47 - 440 Hz, and requires no external fuses or electrolytic capacitors. TDK rates the efficiencies of the series up to 88% while providing an off-load power draw of less than 0.5W.
The series is designed to meet appropriate environmental standards. All units meet EN55011/EN55022-A and FCC-A conducted and radiated emissions (class B with the addition of a small X-capacitor) and IEC 61000-6-2 and IEC 61000-4 immunity standards.
READ MORE ARTICLES ON MOTION CONTROL PRODUCTS:
Rob Spiegel has covered automation and control for 15 years, 12 of them for Design News. Other topics he has covered include supply chain technology, alternative energy, and cyber security. For 10 years he was owner and publisher of the food magazine Chile Pepper.