The JEC Europe 2014 composites show in Paris last month was a chance for many companies to showcase their carbon fiber composites and related products, especially for volume automotive manufacturing. Several companies that attended (and others that didn't) touted their contributions to BMW's all-carbon composite body-in-white. Others introduced new automotive carbon composite products and processes.
In the slideshow below, we let BASF, Huntsman, and SGL Automotive Carbon Fibers show off their roles in the BMW i3's carbon composite breakthroughs. We also tell you about contributions to automotive carbon composites by Dow Automotive Systems, Henkel, Prodrive Composites, and Mitsubishi Electric.
Click the image below to start the slideshow.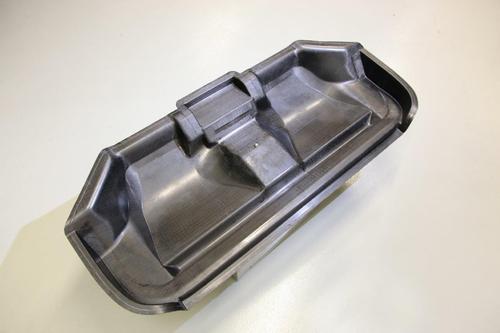 This rear seat base was produced via the resin transfer molding (RTM) process using Dow's commercial Voraforce 5300 epoxy carbon composite. The demonstration part, produced by Fehrer Automotive as part of Dow's Voraforce development program, is 60% carbon fiber by weight. In structural applications, one complex composite part can replace several pieces of steel welded together. The material's low viscosity, low moisture absorption, and cycle time of less than 90 seconds can make carbon composites used for such parts more price-competitive with steel in high volumes.
(Source: Dow Automotive Systems)
One of the most significant introductions at JEC Europe was the commercial production launch of Dow's ultra-fast Voraforce 5300 matrix. The product is aimed at resin transfer molding (RTM) processes for making structural parts for high-volume car production. We've been telling you about advances in this material since 2012, when Dow established a carbon fiber source in Turkey. More recently, in a slideshow, we detailed how Dow has been tailoring the material and the process to address its OEM car maker customers' goals.
Peter Cate, global strategic marketing manager for Dow Automotive Systems, told us the commercial product has the same fast cycle time of less than 90 seconds, which you can see in this video. It also has a processing viscosity of 15 millipascal seconds (mPa.s), compared with the typical competitive viscosities of 50-70 mPa.s, along with low moisture absorption.
Cate said that competitors often talk about cure times of 2-3 minutes but not about overall cycle time, which also includes loading time. In the video, Dow's system achieves an 80-second cycle time, including a cure time of only 40 seconds. The carbon composite material is based on epoxy, not polyurethane (PU), which some RTM competitors use. "From published data, we see that PU RTM systems have a higher viscosity in comparison to our Voraforce 5300, between 30 and 40 mPa.s," he said. "But the real issue is not only low viscosity, but how long that can be maintained while still preserving a fast cure time."
To maintain a low enough viscosity for getting excellent wetting of the fiber pre-form in RTM systems, processing temperatures for PU must be low, but that results in a total molding cycle time of around five minutes. For epoxy, which has been used for a long time in aerospace carbon fiber composite manufacturing, lowering temperatures isn't required. The key, Cate said, is balancing infusion against cure, which epoxy provides.
"We make both polyurethane and epoxy, so we're process-neutral," he said. "We've challenged our polyurethane R&D engineers to match what we've done with epoxy -- we'd be happy if it could do the same." PU has a few other shortcomings: It needs to post-cure in an oven, it doesn't have the same range of possible fiber sizing, and it's not moisture-resistant.
Thorough wetting and filling is key for making the large structural parts that auto OEMs want and for consolidating several parts into one large one. This is also important for making accurate cost comparisons. Carbon composites are more expensive in a 1:1 material cost comparison of so many square meters versus the same amount of steel, Cate said. But processes and design of parts can change that ratio. If one large, complex composite part can be made quickly and in high volumes, versus several steel parts welded together, costs are much more competitive.
Related posts:
{doclink 271934}
{doclink 271732}
{doclink 271489}
{doclink 269073}
{doclink 268704}
{doclink 268622}
{doclink 266142}
{doclink 264979}
{doclink 264050}
{doclink 261323}
{doclink 260918}
{doclink 256906}
{doclink 250828}
{doclink 249438}
{doclink 248401}
{doclink 248043}
{doclink 247490}
{doclink 244909}
{doclink 244471}
{doclink 244093}
{doclink 242954}
{doclink 242652}
{doclink 237504}