Unison Ltd., a UK specialist in pipe- and profile-bending machinery, has developed an electric-powered system capable of bending 10-inch-diameter (273 mm) pipes of carbon steel, Inconel 625, or other metal with wall thicknesses of 6 mm (about 0.25 inch).
The machine is the largest and most powerful electric pipe-bender on the market, Stu Singleton, sales chief at Unison, in Scarborough, England, claimed. The first customer is Westcon Yard AS of Olensvaag, Norway, which builds, repairs, and maintains ships and repairs rigs for the offshore oil and gas industry.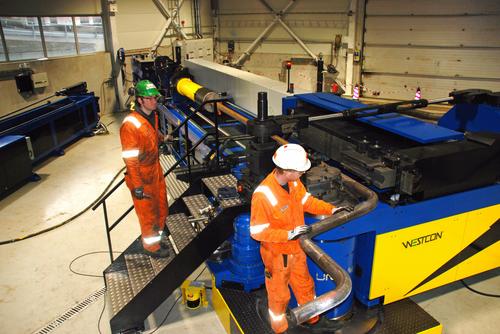 Westcon Yard uses a new electric machine from Unison to bend large-diameter pipes in-house, speeding production and reducing waste and quality problems.
(Source: Unison)
The Unison machine exerts 660,000 Newton meters (486,750 ft lb) of continuous torque. Control mechanisms include servo drives, special ball screws, a dual-laser springback measuring system, and CAD software.
Part of Unison's "Breeze" line, it achieves 0.002 inch repeatability and 0.004 inch accuracy in distance between bends, Singleton said. Bending accuracy is 0.1 degree, and accuracy of bend repeatability is 0.05 degree, he added.
[Learn more industry trends and developments THIS WEEK at Pacific Design & Manufacturing, Feb. 9-11, at the Anaheim Convention Center.]
The machine reportedly decreases waste and quality problems by a substantial margin compared with the former method of using pre-formed bend parts from suppliers. Westcon bends large-diameter pipes from single-piece piping stock that is 6 meters (about 20 feet) long. This dramatically reduces the fabrication and assembly time, while increasing quality control -- all major cost savers.
The bending machine is large -- 16.5 meters long, 5 meters wide, and 1.6 meters high (54.1 ft x 16.4 ft x 5.2 ft). Pipe sections are loaded manually.
Two 90-degree bends can be done in 35 to 40 s, including pipe rotation. Common angles are 45, 90, and 135 degrees, though Singleton said the machine does bends to 190 degrees.
READ MORE ARTICLES BY PAT TOENSMEIER:
Radius bends can be as little as 1.5 times the outside diameter. Bending accuracy and control are developed from CAD files or a laser-based coordinate measurement machine. Westcon also uses VTube software from Advanced Tubular Technologies, which generates production programs from CAD files and uses CMM data for reverse engineering.
Unison's laser springback system checks bend precision. Two lasers measure the bend and, based on design specifications and actual dimensions, an algorithm calculates if bend iterations are necessary. Two to eight iterations may be necessary, based on the material, Singleton noted.
The 10-inch-diameter bending machine may not be the largest electric model Unison makes for long. Singleton said the company has been approached to develop an electric machine that bends 12.5-inch-diameter (317.5 mm) pipes with walls up to 8 mm (0.31 inch) thick. The system would generate 1,050,000 Nm (774,375 ft lb) of torque. The project is in discussion with a potential customer, and no timetable has been set for development.
Pat Toensmeier has more than 30 years of experience writing for business-to-business publications. His main areas of coverage have been defense, design, manufacturing, technology and chemicals, especially plastics and composites. He has reported extensively on developments in these areas from the U.S. and Europe, and covered industry events as well in Brazil and Asia. Toensmeier has held various positions at major publishers such as the McGraw-Hill Companies and Hearst Corporation. A graduate of the University of Missouri, he is a contributing editor for several print and online publications. Toensmeier is based in suburban New Haven, Conn.