Data flows in design and manufacturing are changing. Disconnects are disappearing, and more people and processes can use information from "upstream" as the starting point for the next process step. We are seeing more and more evidence of Industry 4.0 and "plug- and-produce," witnessing new ways of integrating, automating, managing, and simplifying industrial data flows to improve design, engineering, production, and in-service operations.
The Internet of Things, the cloud, remote monitoring, embedded software, simulation, big data analytics: all of these have a role to play in Industry 4.0. But they are just enablers. The creation of better, more useful stuff in less time and at lower cost is the promise that spurs Industry 4.0 investment, not just talk. And new entrants are pitching their ideas alongside industry giants, and both are finding new ways of handling just about every part of the product lifecycle, from concept to recycling.
No single company handles the whole value chain from raw materials to finished product. There is an ecosystem of firms. In each organization, the engineering team finds suppliers and sources materials and components for its product. In parallel, the team has to decide whether to use existing production machines or make some changes or get suppliers to perform some of the steps. Then the team has to stitch it all together.
At every step of the way, the team uses a combination of physical items (materials or component samples) and information (performance, cost, availability, etc). From paper documents, to files attached to emails, to shared databases, the mechanics of moving information around the connected supply chain network is changing, with the goal of reducing the number of times information has to be eyeballed in order to extract the relevant information. And new connectivity means that not only are there new sources of information but also a new opportunity to design products to be used in conjunction with online computer systems.
READ MORE ARTICLES ON INDUSTRY 4.0:
This isn't magic. But when a next-generation product development project is approved, the engineering team has to combine experience and practice, plus innovation and reality, and find a way to deliver on time and on budget.
A lead engineer once described to me how he personally had come up with the idea for a new machine: "I stood and watched the old machine in use at a customer site. I was there for a few hours most days for a couple of weeks. Then I knew what to do." This flash of inspiration wasn't the complete answer; it was a direction and an approach to replace about 12 unique clamping components with 12 instances of the same clamp. It was the start of the work, not the end.
The new clamping system needed a substantial improvement in assembly tolerances. In the old way of redesigning the machine, the engineer had to talk to the quality people. The new way won't eliminate this, but in the new world of Industry 4.0 and plug-and-produce, development teams will no longer need to go on site visits. That's because they'll have real-time access to production and metrology machine data from in-house and suppliers' factories, and access to usage and performance data from connected machines and perhaps even video feeds of their machines in operation at their customers.
Siemens recently used the "digital twin" concept to present its Industry 4.0 capability. The idea is that the real product and its virtual counterpart are twins that travel a parallel journey from design and development to production and service life. Digital twins are everywhere, ranging from the basic (a spreadsheet defining configurations and performance to help with component selection) to the advanced (PLM systems controlling and enabling shared access to version-controlled product development data) to the service focused (aggregating and analyzing sensor readings to optimize power or plan maintenance).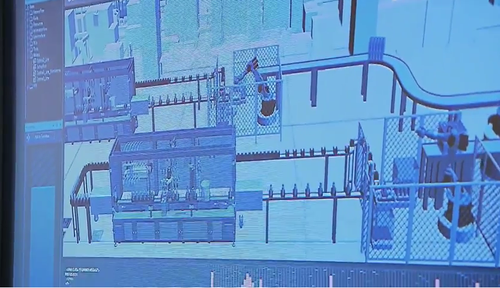 Siemens showed its Digital Twin virtualization technology at Hannover Messe 2015 earlier this year, displaying a simulation of a bottling plant.
(Source: Siemens)
It has been about 40 years since Pahl and Beitz in Germany defined procedures (and data flows) for systematic design (e.g., see here). I wonder if Germany is again going to be a source of ideas on how to apply the new technologies. For example, this pdf proposes design principles for Industry 4.0. You have to get to page 10 to see them, but some of the points (interoperability, virtualization, decentralization, real-time capability, service orientation, modularity) have been very successfully applied to the development of cloud-based IT services. In Industry 4.0, industrial equipment and not just computers will be treated in this way.
Already, the cooperation between engineering teams and their in-house IT colleagues has increased in order to produce the IT services that support smart machinery and products. Use cases of predictive analytics for machine service scheduling are growing rapidly. And no engineer will be able to resist superimposing real-time sensor readings on 3D digital-twin models to see if simulation results match operational reality.
Peter Thorne is director of analyst firm Cambashi. His research focuses on the business needs of engineering and manufacturing organizations, and the way these needs are addressed by information and communications technology. Peter has applied information technology to engineering and manufacturing enterprises for more than 30 years, holding development, marketing and management positions with both user and vendor organizations. He holds a Master's degree in Natural Sciences and Computer Science from Cambridge University, is a Chartered Engineer, and a member of the British Computer Society.
Like reading Design News? Then have our content delivered to your inbox every day by registering with DesignNews.com and signing up for Design News Daily plus our other e-newsletters. Register here!

Design engineers and professionals, the West Coast's most important design, innovation, and manufacturing event, Pacific Design & Manufacturing, is taking place in Anaheim, Feb. 9-11, 2016. A Design News event, Pacific Design & Manufacturing is your chance to meet qualified suppliers, get hands-on access to the latest technologies, be informed from a world-class conference program, and expand your network. (You might even meet a Design News editor.) Learn more about Pacific Design & Manufacturing here.