The threat of stolen intellectual property (IP) that's hovered around the world of 3D printing since its inception just got hotter. Researchers at the University of California, Irvine (UCI) have captured the sounds that 3D printers make when printing out a part and used that data to reverse engineer the part's source code. Thieves could then use that stolen design to recreate the part on a different printer.
All researchers had to do was place a smartphone next to a 3D printer and record the sounds of the exact movements its nozzle makes during printing. They found that a surprising amount of detail can be captured from these acoustic signals, potentially resulting in major security risks that bridge the physical and cyber domains. These security breaches could occur in any manufacturing plant where shift employees carry their own smartphones when they are not monitored, which is often the case, said team leader Mohammad Al Faruque, assistant professor of electrical engineering & computer science and head of UCI's Advanced Integrated Cyber-Physical Systems Lab.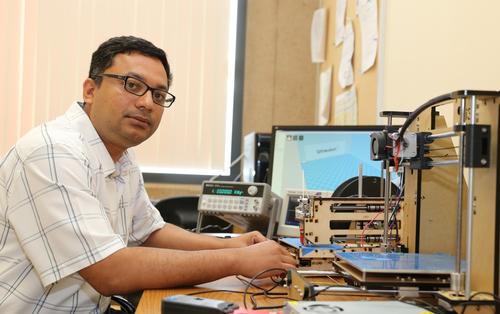 Mohammad al Faruque, assistant professor of electrical engineering & computer science at the University of California, Irvine, led a study showing 3D-printed parts can be reverse engineered by recording the sounds a printer makes while fabricating them.
(Source: Debbie Morales/University of California, Irvine Samueli School of Engineering)
Although a 3D-printed object's source code file, called G-code, is well protected using encryption, when a printer prints out the design its sounds contain a lot of information. For each G-code, the sounds a printer's stepper motors make responding to electric current are different, as are the sounds caused by movements its nozzle, filament, fan, and base plate make during fabrication.
Al Faruque's team made this discovery by accident while studying the relationship between information and energy flows. As described in this video, they conducted research to design an attack model for demonstrating the vulnerability of current additive manufacturing machines and validate the proof of concept. By copying the printer's sounds, the team was able to duplicate a key-shaped test object in their lab with nearly 90% perimeter accuracy after post-processing. To demonstrate the detail of sounds contained in a G-code file, they also played music through one of the printers by using a corresponding G-code, as you can hear at 1:10 in the video.

(Source: University of California, Irvine)
Al Faruque counsels engineers to begin thinking up methods for interfering with the sounds made by 3D printers, perhaps by using white noise, or to consider banning the use of smartphones altogether near 3D printers. Along with graduate students Sujit Rokka Chhetri, who narrates the video, and Jiang Wan, he will present their work in April at the ACM/IEEE International Conference on Cyber-Physical Systems (ICCPS'16), in Vienna, Austria. The study was funded by a cyber-physical systems research grant from the National Science Foundation.
READ MORE ARTICLES ON 3D PRINTING:
Ann R. Thryft is senior technical editor, materials & assembly, for Design News. She's been writing about manufacturing- and electronics-related technologies for 28 years, covering manufacturing materials & processes, alternative energy, and robotics. In the past, she's also written about machine vision and all kinds of communications.