H. Joseph Gerber, the founder of Gerber Scientific, is considered by many the father of modern manufacturing automation and described as the "Thomas Edison" of manufacturing due to his inventions and contributions to industry.
A Holocaust survivor who emigrated with his mother as a penniless teenager to the United States in 1940, Gerber's keen mind for engineering and creativity drove his long career, which culminated with the United States' highest honor for technical achievement, the National Medal of Technology and Innovation award, in 1994. Gerber received the award for his "technical leadership in the invention, development and commercialization of manufacturing automation systems for a wide variety of industries," including automotive, clothing, engineering, drafting, printing, and more.
Gerber's son, David, was so inspired by his father's life and legacy that he's written a book about his life and impact on American invention and industry, The Inventor's Dilemma: The Remarkable Life of H. Joseph Gerber. Design News spoke to David Gerber recently about his father's life, invention methods, contributions to technology, and the overall impact he's had on the modern manufacturing industry.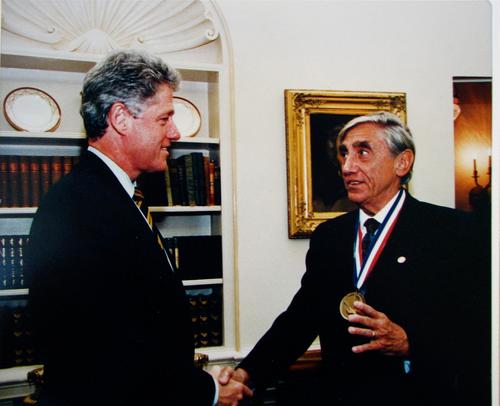 H. Joseph Gerber received the National Medal of Technology and Innovation award for his numerous contributions to technology and manufacturing from then President Bill Clinton in 1994.
(Source: David Gerber)
Design News: What inspired you about the story of your father to want to write this book?
David Gerber: I was privy to this incredible story. My father survived the Holocaust, he rose in America as a penniless refugee and transformed numerous industries from cars and clothes to electronics and printing and more products. So I just had to wonder, how could a person do all of this and become a Steve Jobs of manufacturing?
DN: And what did you learn about how he did it?
Gerber: One thing that I came to understand is that my father had a method of invention. He invented whole new systems of manufacturing, rather than improving existing systems. And this created a different set of challenges and inventive opportunities that other inventors might have had. The biggest surprise for me was I assumed his most formative influence was the Holocaust, but I couldn't square that with the fact that he invented with such joy, that he was such a fundamentally happy person, and that his deep desire was to contribute to society through technology. My original assumption had suggested something different, that he would be driven to repair a fractured sense of self or to prove himself. But he was much more idealistic. He invented for the love of creativity and a deep value in contributing to society. Those basic attributes I came to understand were instilled in him before his experience under Nazi rule.
DN: Tell me about that experience. What happened to your father?
Gerber: He was 13 when the Anschluss occurred. That is, when the Nazi government came to power in Austria. He was born in Vienna and living in Vienna in 1938 when the German merger with Austria occurred. He and his father escaped into Switzerland. They were captured and put in jail where he repaired the jailer's record player so they could have music. Then they were turned back over to the Gestapo in Austria, and jumped off the train and made their way back to Vienna, where they went back into a hide-and-figure-out-how to-get-out-of-the-country mode.
READ MORE ARTICLES ON MANUFACTURING AUTOMATION:
My father and his mother were able to get visas to come to the United States but not for two full years. So their escape attempts failed. The name of the game was to survive for those two years from March 1938 through March 1940. My dad came on the second-to-last boat. If they hadn't gotten out by then, they probably weren't going to get out of Europe. His father was sent on a transport to Poland and presumably died there.
My dad came to America with his mother. They started in New York for a matter of months and then settled in Hartford, Conn. My dad came to Hartford because he could get a job picking tobacco in a tobacco field. He was a teenager, had been out of school for four years, and walked into the office of the principal of the local high school and said he wanted to skip his freshman and sophomore years and start as a junior, and would study the courses on the weekends on his own and take tests. At the same time he was holding down a full-time job and a couple of part-time jobs, and learning the language. The principal said, I will let you try with the agreement that if you fail any course, you have to start as a freshman. They reached that agreement, my dad worked all kind of hours and passed.
DN: What role did the Holocaust play in his success then?
Gerber: I think surviving the Holocaust played a role in his success for sure. First, my dad was born with natural inventive talents. But under Nazi rule, he learned to focus his inventive thinking on solving real, imminent problems. He figured out how to disengage a latching mechanism on a train car bound toward Dachau [where there was a concentration camp] so he and his father could jump off a train. He amplified his family's radio antenna so they could hear foreign news broadcasts. He invented a hand warmer.
[Learn more automation & control trends and developments at Pacific Design & Manufacturing, Feb. 9-11, at the Anaheim Convention Center.]
There are three elements about my dad's experience that made him a more effective innovator. One is he learned to focus his inventive talents on real-world problems that were serious. Two, he gained a different perspective on risk taking. If you didn't take certain risks, you would be killed, and so doing nothing presented its own set of risks. Number three, time became very tangible. Sometimes you had to have patience when events would happen. Sometimes you had patience to find your opportunity, but other times events would just rush forward so you had to be able to move as quickly as possible to seize opportunities.