A DIY project to help with your DIY projects? This edition of Gadget Freak is going meta with a CNC laser engraver made by Amy Kippen and her team of fellow students at Colorado State University.
The CNC laser engraver consists of a user-controlled laser mounted to the Y axis and an engraving plate mounted to the X axis. Motion of the laser and engraving plate are controlled using G-code, which allows the laser to engrave two dimensional designs or images into wood.
A user can input G-code through an SD card on the back of the LCD display. Using the push-button/dial to control the LCD screen, the user selects the correct G-code. The LCD also provides users with visualization and control over the laser casing temperature via alteration of fan speeds. The X and Y axes are each controlled by a stepper motor, and proximity switches are used to limit the motion of each axis past structure walls.
The engraver is also equipped with a safety feature that turns off the laser when the door is open and a program is running. A green LED is lit while the engraver is running. If the door is opened a limit switch inside the door is disengaged and a signal is sent to turn off the green LED and turn on the safety feature, which includes a red LED and an alert buzzer. Disengaging the limit switch also triggers a relay that turns off the laser. Once the door is closed the laser resumes engraving.
Click the image below for a slideshow of the build instructions.
And click here to download the full build instructions including schematics, diagrams, and code.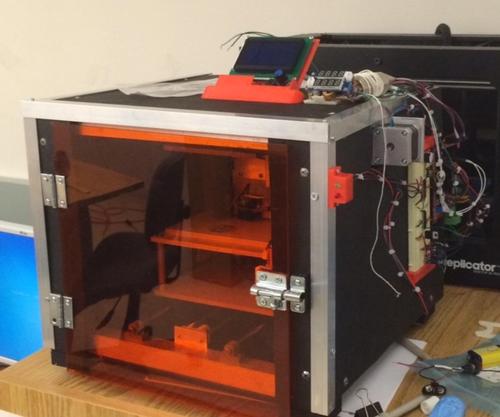 Do you have a cool, original, homemade gadget you'd like to share with the world? Give us the details at DesignNews.com/GF, and you may receive $500 and automatic entry into our $6000 Gadget Freak of the Year contest!
Parts List
 
 
 
Amount
Part Description
Allied Part #
Notes
1
Arduino Mega
 
 
1
voltage regulator
70099596
LM317T Adjustable 2.2-3.7 Voltage Regulator
1
glass lens

 

405-G-2 Glass Lens for Aixiz Laser Module 405nm
1
diode

 

Cassio- 2W 445nm M140 Blue Diode
1
mechanical endstop

 

Signwise 3 pack endstop
2
stepper motor
 
ZJchao 57-ox-in 1Nm Nema 17 Stepper Motor 1.3A 40mm
1
power supply

 

NEWSTYLE 12V 30A DC Universal Power Supply 360W
1
controller kit

 

OSOYOO Printer kit controller RAMPS 1.4
Mega 2560 R3
Stepper Motor Driver
LCD 1286 Graphic display
8
linear bearing
 
Sprite Science 12LM8U Linear bearings
4
linear rods

 

Linear motion 8mm shaft 406mm length chrome plated case hardened
1
cooling fan
 
Uxcell 92 x 25mm DC 12V
2 terminal
65.01 CFM
2
belt and pulley
 
Aluminum GT2 16T Pulley and 2M Belt
2
PIC16F88
70045634
18-Pin PDIP, SOIC
1
transparent wall
 
250nm to 520 nm laser shielding - 12" X 12"
1
alert buzzer
 
12mm Dia. DC 5V 2 Terminals Electronic Continuous Sound Buzzer
1
3D-printed parts
70369255
3mm ABS filament
1
laser