How 3D printing fits into the digital thread, and the relationship between its uses for prototyping and for manufacturing, was the subject of a talk -- More Than Prototyping: Digital Manufacturing's Role in Industry 4.0 -- by Proto Labs' CTO Rich Baker at last week's Design & Manufacturing Minneapolis.
In his talk, Baker discussed several topics, including the limitations of materials and 3D printing processes on the design and production cycle, use cases for 3D printing and additive manufacturing (AM), the opportunities and challenges of using these technologies for end-to-end production, and how these and other new technologies are driving shifts in system design methodology.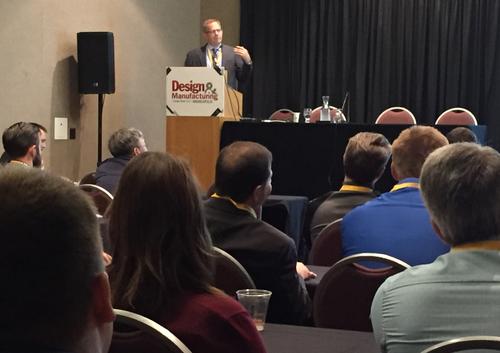 In aerospace and medical applications, the two industries that have already adopted AM extensively, the use cases are clear, said Baker. They include concept models; functioning prototypes with real materials and finishes for test marketing, use testing, and testing for manufacturability with another process, such as molding or casting. 3D printing and AM can also be used to make parts that help develop a production process, as well as final end-production parts.
He said some 3D printing processes and materials are useful for making production parts. These are primarily direct metal laser sintering (DMLS) and selective laser sintering (SLS). These processes can make fully dense parts with no embrittlement; that are UV stable; and with reliable, lot-to-lot mechanical properties. By contrast, parts made with fused deposition modeling (FDM) are not fully dense, and their material properties are not consistent from one layer to the next. The photoreactive materials used for making parts with stereolithography (SLA) have UV-stable problems, as well as embrittlement issues.
Parts reduction, along with the much wider range of geometries made possible, are frequently cited as opportunities that 3D printing brings. "Some of the biggest opportunities with 3D printing are the design freedom it offers," said Baker. "It's especially useful for designing internal passages, entwined parts that can't be assembled separately, and curved surfaces that are not easily machined."
But using 3D printing and AM for production also comes with challenges, and some of these are still formidable. Cost, for example. "The cost of manufacturing with additive methods may be as high as three orders of magnitude above the cost of other processes, depending on [part] size," said Baker. Complexity challenges include the ability to make corrections for a certain amount of distortion that occurs in manufacturing, and process controls for determining materials properties. Secondary operations also need to be addressed, such as post-processing, quality control, and inspection.
READ MORE ARTICLES ON 3D PRINTING:
At the same time, new technologies such as AM are driving future design methodology to move past system engineering. The old model of system design where requirements flow down at project start, they are developed from past experience, and the process is incremental by definition is changing. "3D printing design freedom brings the potential for a new way to work," said Baker. This is a system model-based design approach, where the system model resides in the cloud.
More than one engineer can contribute to the cloud-based system model, and a part's design-for-manufacturability can be evaluated at each iteration in the model instead of in a physical prototype. In this methodology, which includes topology optimization, multiple multi-physics models integrate computational fluid dynamics, thermal, chemical, durability, stress, and RF characteristics into a complete system model. "Within one generation, I predict that engineers will default to this method of multi-physics models, like they did with handbooks 30 years ago," said Baker.
Baker joined Proto Labs in May this year from a similar position at PaR Systems, a custom provider of automated systems. He has held similar positions at MTS Systems, and Rohm and Haas, and holds a PhD in theoretical physics and applied mechanics from Cornell University, in addition to engineering degrees.
Ann R. Thryft is senior technical editor, materials & assembly, for Design News. She's been writing about manufacturing- and electronics-related technologies for 29 years, covering manufacturing materials & processes, alternative energy, and robotics. In the past, she's also written about machine vision and all kinds of communications.