GE Digital has decided to standardize on OPC UA as its protocol for the Industrial Internet of things (IIoT) connectivity. The company also touts the security of the standard. GE will use OPC UA as its interoperability standard across several GE businesses. By standardizing on OPC UA and launching a new server, the Global Discovery Server (GDS), GE is striving to enable the Industrial Internet with improved ease of connectivity across devices and equipment, secure-by-design methodologies, and a significantly richer context for data. The goal is to provide both a foundation for cloud-based systems and a standard for asset performance management.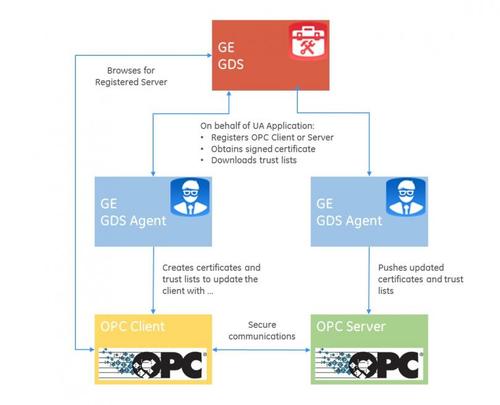 GE has standardized on OPC UA for its Global Discovery Server
(Source: GE)
GE has implemented the GDS connectivity system based on OPC UA standards. The GDS was designed to enhance the Industrial Internet technology and enable better connectivity across devices and equipment. The GDS automates the previously manual and complex processes associated with connectivity and certificate management. The aim is to save users significant time and money.
As manufacturing companies struggle to find reliable and secure protocols for IIoT, OPC UA is becoming a recognized potential solution. "There is a growing demand for OPC UA particularly where it comes to security. We work directly with the OPC Foundation. One of the things that came out of that work was the ability to make OPC UA simpler," Matt Wells, general manager of Automation Software at GE Digital told Design News. "We are attempting to make it easier for our customers to work with our technology. OPC UA acts as the switchboard."
READ MORE ARTICLES ON IIoT PROTOCOLS:
OPC UA provides a standard for GE devices and equipment, and the company now has multiple OPC UA enabled devices: the PACSystems RX3i and RXi and MarkVIe are OPC UA-enabled controllers. Other GE products adopting the standard include: ADAPT3701, GE Oil & Gas System 1 condition monitoring software, 8 Series for primary or backup protection for underground and overhead medium voltage feeders, and 3 Series multifunctional feeder relays.
More and more OPC UA as getting touted as a viable solutions to IIoT security, especially when machine connectivity needs to extend beyond the plant floor. "IIoT is about connecting machines to each other, but it is also connecting them to the cloud in order to improve their analytics," said Wells. "The cloud is where OPC UA comes in. When you're bringing it up to a higher level, you need to have the encryption that comes with OPC UA."
Wells believes OPC UA will eventually become a widespread standard for IIoT, replacing other IIoT protocols. "There are lots of control-layer protocols that OPC-UA is starting to compete with. A lot of those protocols will eventually be rolled into OPC UA," said Wells. "That's kind of a radical view, but it's also a reasonable one. For high-speed communication, the OPC UA is looking at a broadcast protocol, and when that's adopted it will replace other protocols."
Rob Spiegel has covered automation and control for 15 years, 12 of them for Design News. Other topics he has covered include supply chain technology, alternative energy, and cyber security. For 10 years he was owner and publisher of the food magazine Chile Pepper.
Like reading Design News? Then have our content delivered to your inbox every day by registering with DesignNews.com and signing up for Design News Daily plus our other e-newsletters. Register here!