Maybe it's the inspiration of the recent JEC Composites World show in Paris, but whatever the reason there's been a lot of news lately about composites. That includes new methods for recycling and even repairing these notoriously difficult materials, especially the carbon fiber variety, which could be a boon to industries like aerospace.
Aside from the recent composite recycling successes at Colorado State University and the University of Colorado Boulder, there's also a new method for repairing and recycling carbon fiber thermoset composites from Germany's Fraunhofer Institute for Applied Polymer Research. Not only can carbon fiber composite components be repaired using what the institute says is a simple, cost-effective, and energy-efficient method, but an entire component can be completely recycled with this method, including reclaiming its expensive carbon fibers for reuse.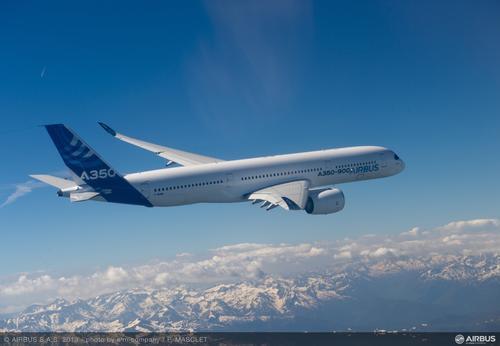 A simple new chemical method for repairing and recycling carbon-fiber composite components has been developed by scientists at the Fraunhofer Institute for Applied Polymer Research. It reclaims both the thermoset matrix and the fibers from entire components, promising to help reduce the cost of these materials in industries such as aerospace.
(Source: Airbus)
It's the very strength of fiber-reinforced composites that makes them tough, if not impossible, to repair or recycle. Once the thermoset plastics that make up the composite's matrix are cured, chemically decomposing them is very difficult, unlike thermoplastics. Fraunhofer's researchers have developed a chemical recycling process to break down the composite's highly crosslinked polymers. These form the very rigid structure that gives a composite component its shape.
READ MORE ARTICLES ON COMPOSITES:
To repair a composite component, the thermoset resin matrix is removed from the area of the part where the defect is located, exposing the reinforcement fibers. Because the chemical method Fraunhofer's process uses is gentle, it doesn't significantly impact the fibers' mechanical properties. The area with exposed fibers is then filled with replacement resin and cured.
The same chemical process can be used for recycling composite components, instead of incinerating them or shredding them for use as fillers. The fibers that result from the process will no longer be continuous filaments, but many applications can take advantage of the short fibers, measuring up to several centimeters, that result. The component's resin matrix can be decomposed, and the reinforcement fibers can be reclaimed. This method for reclaiming the matrix polymer can be scaled up to industrial volumes, making it possible to synthesize recycled thermosets. The Fraunhofer Pilot Plant Centre for Polymer Synthesis and Processing will manufacture these resins in industry-scale quantities.
Learn more at Atlantic Design & Manufacturing June 14-16, in New York.
Ann R. Thryft is senior technical editor, materials & assembly, for Design News. She's been writing about manufacturing- and electronics-related technologies for 28 years, covering manufacturing materials & processes, alternative energy, machine vision, and all kinds of communications.