With access to water continuing to be a problem in under-developed and arid parts of the world, designers and engineers are working on innovative ways to help solve this issue. One of the latest ideas comes from researchers at Harvard University, who have used biomimicry—a methodology that draws design ideas from nature—to develop a blueprint for materials that can harvest water from thin air.
Researchers at Harvard's John A. Paulson School of Engineering and Applied Sciences (SEAS) and the Wyss Institute for Biologically Inspired Engineering studied desert animals and plants—specifically, the Namib desert beetle, the cactus, and the pitcher plant—to see how these organisms collect water in such a dry environment. What they found is that all three collect water droplets from the air—the beetle using the bumps of its shell; the cactus doing so with its V-shaped spines; and the pitcher plant with its slippery surface.
Inspired by these examples, researchers have designed a material with similar properties. Doing so, according to Joanna Aizenberg, a professor of materials science at SEAS, has set a new precedent to use not just one but several natural systems when applying biomimicry to design.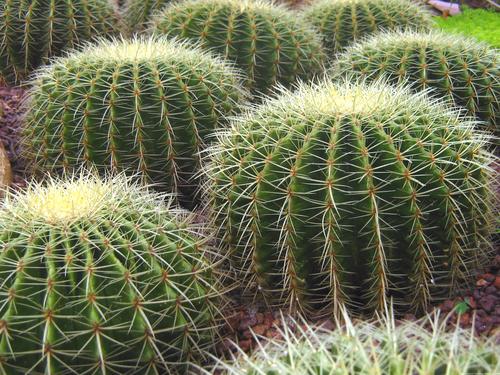 The V-shaped spines of cactus are one of the natural-world examples that inspired Harvard researchers to develpo a new material design system for collecting water from air. Researchers hope to help solve the shortage of water problem that persists in dry and underdeveloped regions of the world.
(Source: Wikipedia Commons)
"Our research shows that a complex bio-inspired approach, in which we marry multiple biological species to come up with non-trivial designs for highly efficient materials with unprecedented properties, is a new, promising direction in biomimetics," she said.
Researchers described their work—which was supported by the Department of Energy—in an article in the journal Nature. The new material design system uses a Slippery Liquid-Infused Porous Surfaces technology (SLIPS) developed in Aizenberg's lab at SEAS to collect and direct the flow of condensed water droplets, researchers said.
At first researchers focused on the hybrid chemistry of the beetle's bumps—which have a hydrophilic top with hydrophobic surroundings—to solve the major challenges of harvesting atmospheric water. These are to control the size of the droplets as well as the speed in which they form and the direction in which they flow.
READ MORE ARTICLES ON BIOMIMICRY:
Eventually, the team incorporated ideas inspired from other biological entities to come up with a different possibility for their design—that convex bumps themselves also might be able to harvest water. They optimized the shape of the bumps through theoretical modeling combined with the asymmetry of cactus spines and the coatings of pitcher plants to design a material that can collect and transport a greater volume of water in a short time compared to other surfaces.
"Without one of those parameters, the whole system would not work synergistically to promote both the growth and accelerated directional transport of even small, fast condensing droplets," said Kyoo-Chul Park, a postdoctoral researcher and the first author of the paper in Nature. Researchers said the system is a first step in the development of a passive system that can efficiently collect water from air and guide it to a reservoir for use.
The system can be used not only to collect water, but also to perform the same critical function that condensers now do in thermal power plants to convert steam to liquid water, researchers said. This could help hasten that process and allow operation at a higher temperature to improve overall energy efficiency of the plants.
Elizabeth Montalbano is a freelance writer who has written about technology and culture for more than 15 years. She has lived and worked as a professional journalist in Phoenix, San Francisco and New York City. In her free time she enjoys surfing, traveling, music, yoga and cooking. She currently resides in a village on the southwest coast of Portugal.
Like reading Design News? Then have our content delivered to your inbox every day by registering with DesignNews.com and signing up for Design News Daily plus our other e-newsletters. Register here!