Baldor Electric Co., the US-based motor-manufacturing subsidiary of global engineering giant ABB, places a high premium on quality management, and the company recently drove home that commitment by promoting its director of quality to a newly created strategic role.
Myla Petree, the new director of strategic program management, came to Baldor in 2011 as director of quality, after serving in quality and engineering roles at Trane Co., Borg Warner Automotive, Rheem Manufacturing, and other industrial firms. In her new role, Petree will direct a newly formed team of Baldor project managers to organize and implement key strategic projects across Baldor's organization.
Baldor operates 26 plants in the US, Canada, England, Mexico, and China; fields some 7,500 employees; and sells its products in more than 70 countries. Among its product lines, Baldor produces AC, DC, and servo motors; drives; mounted bearings; conveyor components; mechanical drive components; couplings, clutches, and brakes; and enclosed gearing.
[Visit ABB at Booth 4320 at Pacific Design & Manufacturing, Feb. 9-11, at the Anaheim Convention Center.]
In an interview with Design News, Petree explained that Baldor measures quality in many ways, but all of these measures come down to customer perceptions. "Our mission at Baldor is to be the best designers and makers of industrial electric motors" and other products, she explained, "but to be the best as experienced by our customers." To that end, the company rates its performance according to "a formula for value as perceived by the customer."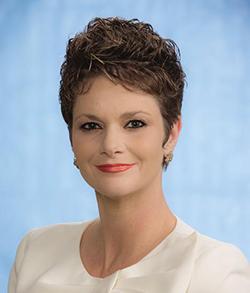 Myla Petree
(Source: Baldor Electric)
According to company materials, Baldor has used the following value formula for the past 25 years: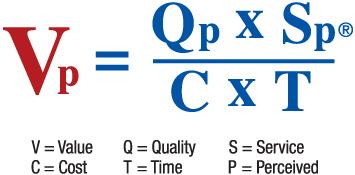 Placing "quality" and "service" metrics in the numerator of that formula, but gauging them according to customer perception, allows the company to define value according to customer expectations. "We really look at quality, service, cost, and time as key factors exemplifying our customer experience," Petree said.
As with any manufacturer, Baldor employs extensive measurement practices across its production facilities, for example, thermal imaging, to analyze the effects of temperature and wear on its products. Even so, Petree stressed, "our most important metrics are those that indicate how our customers are experiencing quality. Things like defect and warranty rates directly indicate what our customers are seeing and experiencing, and how they're affecting their business."
Petree said Baldor's quality management practices affect the work of product development professionals at the firm. "A couple of years back, we decided to be much more proactive in terms of quality," she said. "We set up a quality vision, to build quality into our products up front -- including the design phase." The quality-management organization works to integrate processes like risk management and failure modes and effects analysis (FMEA) across the organization from design to production, but in the end basing all metrics on "understanding what are the critical features for our customers," Petree emphasized.
READ RELATED ARTICLES ON DESIGN NEWS:
Petree told Design News that she thinks design engineering could be a great entry point into the quality profession. "I actually did design engineering for an HVAC company," she said. "It's a great background for moving into these types of roles. You can take advantage of the position to establish relationships with production and supply chain, to learn the product in detail, and to get out and learn all the processes that tie into how products are made. That perspective is needed in a lot of roles in a company. It can be a great building block in quality or even in program management."
In Petree's new strategic program management position, she and her team will be assigned to take on initiatives that cut across functional areas and business units at Baldor. This sort of high-level cross-cutting program implementation could fit well with the skill set of a quality-management executive like Petree.
In a company announcement, Amy Lakin, executive vice president for supply chain at Baldor, stressed that Petree's abilities as a quality executive made her a good choice for the new position, particularly her "knowledge of quality systems, root cause analysis, engineering and program management." Petree told us she thinks "there's no better background than an extensive quality history to make sure the programs we're putting in place continue to strengthen our organization."
Al Bredenberg is a writer, analyst, consultant, and communicator. He writes about technology, design, innovation, management, and sustainable business, and specializes in investigating and explaining complex topics. He holds a master's degree in organization and management from Antioch University New England. He has served as an editor for print and online content and currently serves as senior analyst at the Institute for Innovation in Large Organizations.
Like reading Design News? Then have our content delivered to your inbox every day by registering with DesignNews.com and signing up for Design News Daily plus our other e-newsletters. Register here!