Showcased at the International Manufacturing Technology Show (IMTS 2016) last week, the SP6 coupling from R+W America is aimed at users who want to customize their applications. "The advantage is better balance," Andy Lechner, sales manager for R+W, told Design News at the show. "It's for people who are looking for the smoothest running they can achieve at high speeds."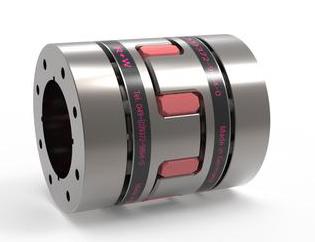 R+W's SP6 coupling is targeted at users who want smoother running, high-speed spindle motors.
(Source: R+W America)
The SP6 is capable of handling circumferential speeds of up to 80 m/s. Standard off-the-shelf ratings range from 18,000 rpm to 28,000 rpm, with higher speeds of up to 40,000 rpm available on request.
The new coupling distinguishes itself in that it allows users to customize the concentricity of their system. In contrast, the company's previous couplings used a fixed stop that determined the so-called runout. "Some customers wanted to have continuous adjustment so that they could tweak each screw and get exactly the runout they wanted," Lecher told us. "This allows them to do that."
READ MORE IMTS ARTICLES ON DESIGN NEWS:
He said the company foresees the SP6 being used in machine tool spindle motors, mostly for milling and grinding. He added, however, that it could also be applied in centrifuges and specialty turbine testing.
"You can use this wherever you have high-speed spindles, and it will allow you to strive for the ideal concentricity," he said.
Senior technical editor Chuck Murray has been writing about technology for 32 years. He joined Design News in 1987, and has covered electronics, automation, fluid power, and autos.