have introduced openROBOTICS, a new solution that solves a longstanding problem in manufacturing automation—how to integrate robots into machinery control.
OpenROBOTICs is based on a line-up of COMAU robots that handle payloads ranging from 3 to 650 kilograms that can be controlled by the same B&R controllers as other factory machines, according to COMAU.
COMAU robots can now be completely and seamlessly integrated into machines and production lines equipped with B&R automation components by selecting a robot in B&R's Automation Studio engineering environment, the company said.
[Visit B&R Industrial Automation at Booth 4415 at Pacific Design & Manufacturing, Feb. 9-11, at the Anaheim Convention Center.]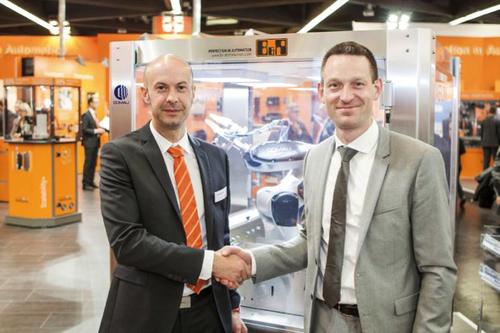 Walter Burgstaller, European sales director at B&R, and Tobias Daniel, head of sales and marketing at COMAU, present openROBOTICS for the first time at SPS IPC Drives 2015. The solution allows robotics to be integrated into machine control systems, something that long has been a pain point for manufacturing automation systems.
(Source: COMAU)
"It's a revolutionary approach, totally innovative," Alessio Cocchi, marketing manager at COMAU Robotics told Design News. "OpenROBOTICS enables the robot to be fully integrated to the machine without its control and its programming language. The robot becomes part of the machine itself and, as such, it's programmed with machine language and no longer with robot language."
Indeed, it traditionally has been tough to integrate robotics into machinery control, and so robotics and machinery have always relied on separate controllers or gateways. With OpenROBOTICS, manufacturers using COMAU and B&R solutions together can now develop a holistic approach to operation, diagnostic, and maintenance of automation machines in an environment, according to COMAU.
[Discover the latest trends in robotics and automation at at Pacific Design & Manufacturing, Feb. 9-11, at the Anaheim Convention Center.]
"The robot's programming language disappears and there is no redundant hardware," Cocchi said. "You get a fully integrated real-time management of the robot, a reduction of the make-ready system (people do not have to learn a new language) and an increase in the ability to implement a preventive maintenance and to manage traceability."
READ MORE ARTICLES ON MANUFACTURING AUTOMATION:
The solution also offers advantages in terms of performance because it establishes a real time flow of information from any component of the process, he said. Moreover, it removes the integration problem of all the components that normally speak different languages. "This means much more speed in starting a new production line, in operators training, and [fewer] installation costs," Cocchi said.
COMAU and B&R have been working together since 2008 when B&R became the exclusive control system supplier for COMAU's robot controllers. The companies' primary work together has been to integrate robotics into production lines so OEMs and end users can benefit from synchronization and the resulting responsiveness of the combined system.
The companies currently are engaged in several products in addition to OpenROBOTICS, Cocchi said. Another is the new Racer3 control, R1C. Other projects remain under wraps at this time, he said.
Elizabeth Montalbano is a freelance writer who has written about technology and culture for more than 15 years. She has lived and worked as a professional journalist in Phoenix, San Francisco and New York City. In her free time she enjoys surfing, traveling, music, yoga and cooking. She currently resides in a village on the southwest coast of Portugal.
Like reading Design News? Then have our content delivered to your inbox every day by registering with DesignNews.com and signing up for Design News Daily plus our other e-newsletters. Register here!