Celera Motion, the manufacturer of optical encoders, motors, and actuators, in recent weeks, announced a new series of low-profile linear motors called Javelin, and introduced its MicroE Veratus Series compact encoders. The latter is based on the company's new advanced optical filtering signal processing and electronics technology called Vera Path. Celera Motion was formed last year by the merger of miniature precision optical encoder company MicroE and Applimotion, a manufacturer of direct drive motors and actuators.
Applimotion, which remains a business unit of Celera Motion, was best known for high-performance, low-profile frameless motor kits. The division retains a large library of linear motors, and Celera is now promoting the capabilities of Applimotion's linear motors under the newly minted Javelin trade name. Javelin Series' frameless kit construction enables easy integration into OEM machinery, linear stages, and actuators, according to David Kosewski, product marketing manager for Celera Motion.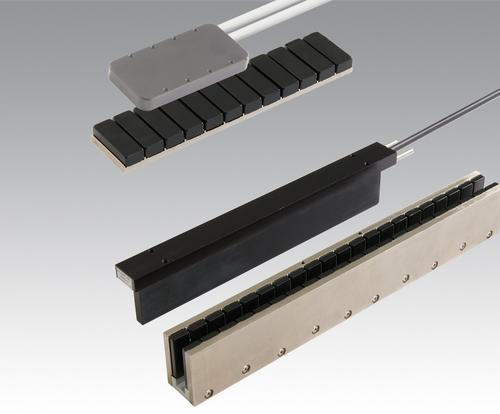 Celera Motion's new Javelin series of low-profile linear motors.
(Source: Celera Motion)
"Direct drive technology and air core (ironless) construction provide good mechanical stiffness and low cogging and zero backlash, and they reduce the settling times and increase throughput," Kosewski told Design News.
Built using state-of-the art magnetic designs, the Javelin Series was created for high acceleration and high speeds in compact, lightweight form factors. Single- and double-sided magnet tracks reportedly deliver continuous forces up to 143 N and peak forces up to 420 N.
Windings and form factors can be customized to meet OEM application requirements.
Originating from the former MicroE business unit, the Veratus compact encoders were designed for reliability, signal stability, and dirt immunity in a very small package, according to Celera. All interpolation, automatic gain control, and signal processing are performed in the sensor head, which measures 35 mm x 13.5 mm x 10 mm.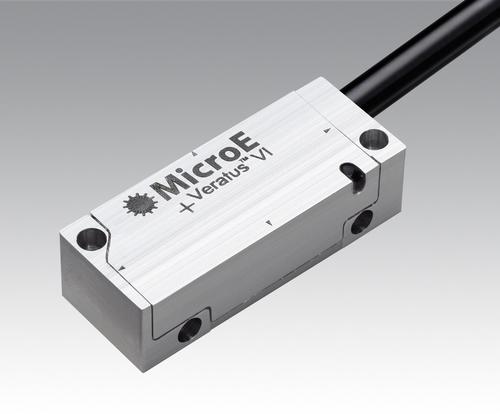 Celera Motion's Veratus compact encoders for exposed, harsh environments.
(Source: Celera Motion)
Interpolation in the sensor head provides resolution from 5 μm to 20 nm for linear applications, with speeds up to 5m/s. There are multiple mounting configurations, industry-standard analog and digital incremental encoder outputs, built-in limits, flexible index selection, and status LED in the sensor head. The encoder line also has automatic calibration.
"To achieve higher levels of performance in the face of continued pressure to make machines smaller, lighter, and more energy-efficient so they can be deployed in more flexible and mobile configurations, our customers often need to measure their payload position directly," Kosewski told us. "This commonly requires that the encoder be installed out in the open, where it's subject to contamination from dust and oil, and the normal wear and tear exposure associated with operating in 24/7/365 manufacturing environments."
READ MORE ABOUT MOTORS & ENCODERS:
The series is particularly relevant to advanced industrial applications in which customers' motion control systems require an optical encoder on a long linear stage or actuator where metal tape scales are the preferred solution for their accuracy. But metal tape scales may expose the encoder to harsh environments, so the new series can also filter out signal disturbances caused by scratches on gratings and by typical variations of metal scale flatness.
"No additional PCBs, adapters, or dongles are necessary to set up or operate the encoder, and it really provides a smaller system footprint," Kosewski said, when comparing what's out on the market.
The low cogging of Javelin motors, when paired with the high resolution and dirt immunity of Veratus encoders, results in smooth and precise motion in an extremely low-profile form factor, according to the company.
Tracey Schelmetic graduated from Fairfield University in Fairfield, Conn. and began her long career as a technology and science writer and editor at Appleton & Lange, the now-defunct medical publishing arm of Simon & Schuster. Later, as the editorial director of telecom trade journal Customer Interaction Solutions (today Customer magazine) she became a well-recognized voice in the contact center industry. Today, she is a freelance writer specializing in manufacturing and technology, telecommunications, and enterprise software.