Here's a chance to get a deep look into Industry 4.0 manufacturing from those who are creating and deploying the newest technology. The Pacific Design & Manufacturing in Anaheim next week will feature a full day of sessions on Tuesday, Feb. 9, presented by the leaders in ground-breaking manufacturing tools.
The morning sessions will be chaired by Julian Keith Loren, director of External Engagement & Solutions at GE Software. The morning will kick off at 10 a.m. with "First Things First: 101 Understanding of Industry 4.0." This presentation by Marc Ostertag, president, B&R Automation North America, offers a comprehensive and easy-to-understand breakdown of what industry 4.0 is all about. Ostertag will explain the technologies that make up smart plants. He'll compare and contrast European vs. US definitions of Industry 4.0 –- what it means today and where it's headed.
[Visit B&R at Booth 4415 at Pacific Design & Manufacturing, Feb. 9-11, at the Anaheim Convention Center.]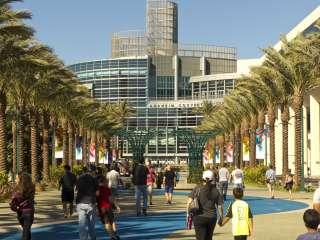 We hope to see you in Anaheim, Feb. 9-11!
The session will be followed at 10:30 a.m. with "Fear Not the Smart Plant: Exploring Manufacturing Trends in the Digital Age." Keith Kersten, industry marketing team manager at Omron Automation, will look at hot trends in the industry, offering an overview of what's next in smart plant manufacturing. Kersten will examine current challenges in the traditional factory floor, explaining what innovations are being made to solve major problems and discussing how the manufacturing industry will look in the future.
[Stop by and see Omron at Booth 4604]
At 11 a.m., Cullen Hilkene, CEO of 3Diligent, will offer the case study "Developments in 3DP/Additive Manufacturing: Selecting the Right Prototyping Method for Your Needs." Hilkene will highlight printers that are ushering in the next generation of 3D printing while also discussing material advances. He'll explain what capability is already here, and what's soon to come.
[Check out 3Diligent at Booth 3637]
The after-lunch sessions will be chaired by Ostertag from B&R. The first session at 1 p.m., "Determining the Cost-Effectiveness of Industry 4.0 Solutions & Maximizing ROI," will be presented by Paul Heine, head of strategic business development at Sick Inc. Heine will explain how to develop realistic timelines for ROI in adopting new technology and how to justify your investment to upper management.
HERE ARE MORE REASONS TO ATTEND PACIFIC DESIGN & MANUFACTURING:
At 1:25 p.m., Loren from GE will present, "Retrofitting 101: Risk Management for Incorporating New Technology Into the Traditional Factory Infrastructure." Loren will explain how to bring IoT into a factory that wasn't built to support the technology. He'll also cover why taking intelligent risks in 2016 is necessary to stay ahead of the game and to understand the evolving needs of the consumer.
The balance of the afternoon will include a panel discussion at 1:50 p.m. entitled, "No Worker Left Behind: Optimal Integration of Industrial IoT With the Human Work Force." Panelists will include: Brian Fortney from Rockwell Automation, Loren from GE, Heine from Sick, and Robert Bodor, VP and general manager at Proto Labs. That will be followed at 2:45 p.m. with the case study, "Discovering the Good, the Bad & the Ugly in 'Smart' Transitions," in which Jason Kasper, principal analyst at LNS Research will dig deep into real-life examples of how traditional factories have made (relatively) smooth transitions to smart plants and saved money.
[Chat with Rockwell at Booth 4576 and Proto Labs at Booth 3415 at Pacific Design & Manufacturing, Feb. 9-11, at the Anaheim Convention Center.]
The day will conclude with a walk through the Expo floor to see demonstrations of smart plant technology close up. At 3:15 p.m. I, (Rob Spiegel, Design News' automation and control editor), will kick-off "How To Get Smart: Coaching & Collaboration Innovation Tour." I will be assisted by Kersten, Ostertag, and Kasper as I wind my way through the latest automation technology on display.
Rob Spiegel has covered automation and control for 15 years, 12 of them for Design News. Other topics he has covered include supply chain technology, alternative energy, and cyber security. For 10 years he was owner and publisher of the food magazine Chile Pepper.