In recent years there has been a proliferation of helicopter drones. Some are small enough to fit in your palm, while others are "roadable," large enough drive along roads as well as fly. The roadable drones were designed to retrieve soldiers wounded in battle. The tiny robots were designed for military surveillance.
Many new copter drones were designed for neighborhood use, primarily as flying cameras for those in real estate. The film industry has also turned to drones as a cheaper way to take aerial shots. Search and rescue services -- whether police or ambulance -- are using drones to photograph crime scenes or locate those in an emergency situation.
Click the image below to see our collection of drones.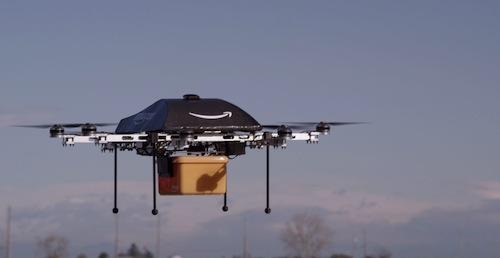 The goal of Amazon's helicopter delivery system is to get packages into customers' hands in 30 minutes or less using unmanned aerial vehicles. Putting Prime Air into commercial use will take some number of years as we advance the technology and wait for the necessary FAA rules and regulations.
(Source: Amazon)
Related posts:
{doclink 270403}
{doclink 270115}
{doclink 266328}
{doclink 264266}
{doclink 235083}
{doclink 230515}
{doclink 228622}