As it turns out, 3D printing techniques are perfect for use in space. Printers have become small, compact, fast, and powerful. And, as we've discussed before, a wider array of engineering materials are now available.
Packing for a working trip to the International Space Station, the moon, or Mars must be a lot harder than packing for a business trip to Europe. If all an astronaut needed to take along was a 3D printer with the right software library of tools and spare parts (plus some raw materials), that would make things a lot simpler, and it would probably cut fuel costs by a lot.
But additive manufacturing isn't just for astronauts. The makers of components for fighter jets, commercial planes, and unmanned aerial vehicles are also researching the use of 3D printers to produce end-use and production plastic and metal parts.
Many techniques are being put into play, including various forms of selective laser sintering (SLS), conformal lattice structures combined with SLS, fused deposition modeling, and NASA's electron beam freeform fabrication. One process, done with the Contour Crafting robot, can manufacture structures as large as apartment buildings and hotels using locally available materials such as clay and plaster.
Click the image below for 10 out-of-this-world examples of 3D printing techniques.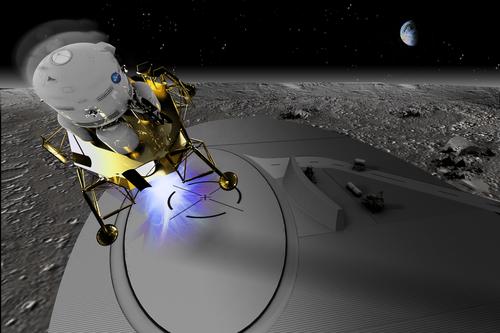 NASA-funded research by University of Southern California professors Behrokh Khoshnevis, Madhu Thangavelu, Neil Leach, and Anders Carlson is exploring how structures on the moon can made using the Contour Crafting robot. Under NASA's Innovative Advanced Concepts program, the researchers aim to develop methods for creating infrastructure, such as roads and landing pads, to support human settlement on the moon. The technology can create structures in situ from local materials, which is especially important for long-term, continuously expanding operations on the moon. For example, the team is exploring a nozzle system that heats lunar soil into a cement-like paste. In this visualization by Behnaz Farahi and Connor Wingfield, a lander descends on a pad fabricated by the Contour Crafting robot.
(Source: University of Southern California/Contour Crafting)
Related posts:
{doclink 249160}
{doclink 248401}
{doclink 248157}
{doclink 247030}
{doclink 247146}
{doclink 238343}
{doclink 237571}
{doclink 236261}
{doclink 249160}