Back in the day, when I was a young engineer writing assembly code, it always struck me as paradoxical that the most important phase of the design process -- test and integration -- got the least respect.
Perhaps that was because debugging was considered a necessary but unprofitable evil. There's little money to be made in squeezing the last ounce of reliability out of a nearly completed product, when a company could instead be putting its resources into creating the next-gen prototype.
Fortunately, final acceptance is taken far more seriously in aviation, though, truth be told, there's always some "just make it work" involved. We're now getting an opportunity to assess the success of this process in a real-world scenario. Boeing's 787 Dreamliner has been delivered to its first customer, Japan's All Nippon Airways (ANA). This isn't a new airplane so much as an entirely new platform -- and it's got the manufacturing growing pains to prove it.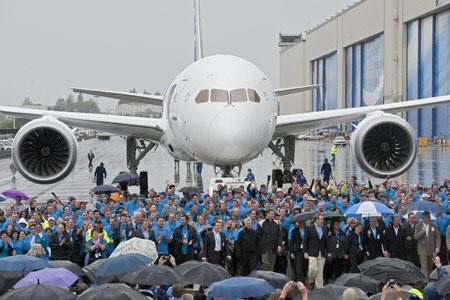 Boeing and All Nippon Airways (ANA) employees celebrate the delivery of the first 787 Dreamliner on September 26
outside the factory in Everett, Wash.
The Dreamliner is made out of significantly more composite materials -- 80 percent by volume, or 50 percent by weight -- than any previous aircraft. (For comparison, the Boeing 777 is 12 percent composites by weight.) More importantly, we're talking primary structures. The wings are entirely fabricated out of carbon-reinforced composites.
Wringing weight out of the wings is just one way the 787 was made 20 percent more fuel-efficient than similar midsized airplanes (210 to 290 passengers, depending on model and configuration).
But it's not just lighter structures. A "no-bleed" systems architecture replaces most of the air-driven pumps and compressors with electrically powered alternatives. The hydraulic pumps that move the flight-control surfaces are similarly run off electric pumps. All this lightens the load on the engines, which no longer have to waste power providing all that air to run those pumps pneumatically. Plus, the engines themselves require less ducting to route the air and are thus more reliable.
Such step-function advances, along with a farther-flung network of suppliers than ever before, is one reason the Dreamliner was three years behind schedule when ANA finally got its hands on the plane in late September.
Yet to come is what I believe will be the most interesting part of the 787's journey. We'll see how all those composites hold up over repeated takeoff and landing cycles. Will delamination emerge as a real problem? Will field servicing of minor splits and separations be cost-effective and practical? Finally, what will Boeing's engineers learn that they can feed back into the next generation of composite airframes?
We're seeing similar aviation innovation in craft being built to ply the stratosphere. I'm referring to the emerging commercial space arena. Companies like Blue Origin, founded by Amazon.com CEO Jeff Bezos, and SpaceX are attempting to build reusable rockets that can shuttle astronauts into space or even carry paying passengers.
NASA is seeding such efforts with R&D money. Some may say that's a poor replacement for scrapped manned space-flight programs. However, I'm encouraged to see that commercial space, which saw its first flurry of activity in 1985, is finally poised for takeoff.