Ford president and CEO Mark Fields made it clear that the giant automaker is not settling for half-measures in its effort and is going straight to self-driving cars by 2021. "That means there's going to be no steering wheel. There's not going to be a gas pedal. There's not going to be a brake pedal and, of course, a driver is not going to be required," he said.
Ford's bold announcement, which included a mention of its investment in sensor-maker Velodyne Lidar Inc., matches similar statements from competitors. In March, General Motors announced an investment in Cruise Automation, maker of autonomous vehicle control systems. Soon afterward, the giant automaker admitted it was testing autonomous vehicles in the San Francisco area. Similarly, Uber Technologies Inc. said last week that it intends to allow customers in downtown Pittsburgh to summon self-driving Volvo SUVs from their phones by the end of this month. Uber, Volvo, GM, and Ford have been joined by other companies, including Google, Nissan, and Tesla Motors, in making announcements about autonomous or semi-autonomous vehicles.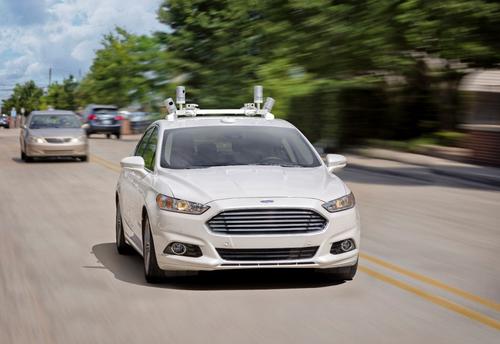 An autonomous Ford Fusion takes to the streets in Dearborn, Mich.
(Source: Ford Motor Co.)
Fields said that autonomy is the biggest phenomenon to hit the auto industry in a century. "We see autonomous vehicles as having as significant an impact on society as Ford's moving assembly line did over a hundred years ago," he said.
Still, some experts remain skeptical. "This is business as usual," Kyle Landry, research associate for Lux Research's autonomous systems team, told Design News. "People have been making these announcements for the last couple years. It's been Google, then Tesla, then Nissan, then Ford, and a handful of others."
Landry contends that obstacles remain, especially for the fully autonomous vehicles described by Ford. Sensors and software are not entirely ready for the chaos of complex traffic and inclement weather. "There are a lot of technical limitations in the way," he said. "And beyond that, you have the regulatory issues -- NHTSA and the Department of Transportation can be very slow. The scenario is just not plausible today."
READ MORE ABOUT AUTONOMOUS VEHICLES:
Landry said he expects fully autonomous vehicles to be used in very limited applications until about 2030. Such applications include shuttle buses on campuses and autonomous cabs in small, well-mapped business districts. Audi, for example, plans to do valet-style rides in a parking lot in a Boston suburb, he said.
"That's how the scientific method works," Landry told us. "You limit the variables that you're going to encounter. One way to do that is by location. Another is to limit the number of vehicles on the road."
Clearly, though, that's not what Ford is planning. "… we abandoned a stepping-stone approach and created a dedicated 'top-down' engineering program to deliver fully autonomous vehicles …" Fields said in a prepared statement released by Ford last week.
Either way, the pieces of the self-driving puzzle -- technologies such as collision avoidance and lanekeeping -- will affect safety in a positive way, Landry said. "We don't need to wait for the fully autonomous car to come in 2030 to make everything safer," he said. "These technologies are impacting safety already."
Senior technical editor Chuck Murray has been writing about technology for 32 years. He joined Design News in 1987, and has covered electronics, automation, fluid power, and autos.