The Lightweight Innovations for Tomorrow (LIFT) consortium, operated by the public/private American Lightweight Materials Manufacturing Innovation Institute (ALMMII), has announced its third technology project: advancing computer analytics to better understand and predict the performance of titanium alloys.
Lead partners on the project are GE Aviation and The Ohio State University. They will focus on improving computer models to better predict how a particular design will perform, in order to do less testing. Although lightweight titanium is well known as having potential for more uses in aircraft engines and other aerospace designs, the material is expensive, and the cost of designing and testing new parts has been high. That's because engineers have to "make and break" multiple test parts before they know the design is right for a critical component of an airplane engine, said LIFT chief technology officer Alan Taub, in a press release. New modeling and simulation technologies can reduce those costs, as well as cut lead times for developing new designs.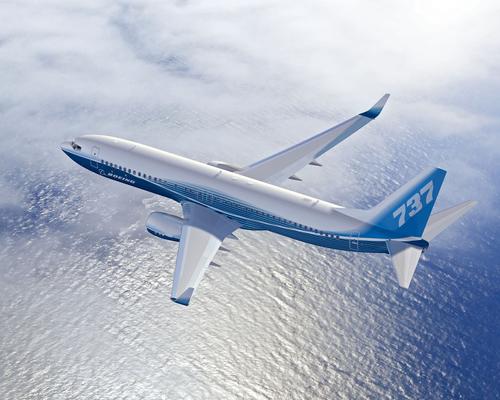 The latest technology project of the Lightweight Innovations for Tomorrow (LIFT) consortium focuses on better computer analytics to improve understanding and predict the performance of titanium alloys, in order to do less testing.
(Source: Boeing)
Other industry partners on the project are Boeing and Scientific Forming Technologies Corporation. EWI, Purdue University, Southwest Research Institute, University of Michigan, and the University of North Texas will be research participants.
The project will look especially closely at FEA (finite element analysis) tools, John Allison, professor of materials science and engineering at the University of Michigan and LIFT's materials modeling and simulation technology lead, told Design News. "In FEA analyses of stress and temperature distributions in structures, the tools' assumption is always that materials properties are constant and uniform throughout the part," he said. "But the fact is, they're not: those properties are very sensitive to manufacturing processes and manufacturing history. For example, in casting versus forging, a part's properties are very different, even though the alloy can look the same. Materials properties can also vary between parts due to variables in manufacturing history."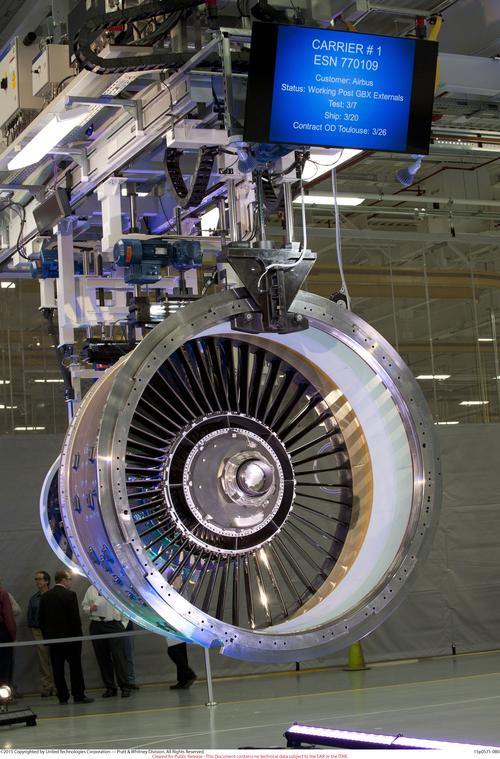 Titanium is already used in small amounts in some aircraft engines. For instance, Pratt & Whitney developed a new blade design and materials processing technologies for a lightweight, low-cost aluminum-lithium fan blade. The blade's front is titanium, which bears the brunt of impacts.
(Source: Pratt & Whitney)
It gets even more complicated: within a single part, different sections have different properties, such as in thin and thick areas, yet almost 90% of the time, FEA tools assume they are the same. "To account for that, engineers must use very conservative designs, so typically we have to design for the weakest properties," said Allison. "That means we're not getting as much out of the materials as we could. So if we design for average properties, when we test the part it doesn't work the first time, because we haven't accounted for manufacturing history and variability of properties."
[Learn more industry trends and developments at Pacific Design & Manufacturing, Feb. 9-11, at the Anaheim Convention Center.]
This project is different from LIFT's first two, which we told you about. That's because its focus on integrated computational materials engineering [ICME} can apply across several related manufacturing processes. "This project aims to develop computer models that will reduce by 50% both the time and cost for materials development, component design, and manufacture," said Taub. "In addition, the new computational tools will help us manufacture components that perform better."
ICME is new enough that LIFT doesn't know yet exactly how all this will evolve, said Allison. "We're taking experimental data, theory, and models and putting them into software tools. Within LIFT, the intent is to provide subroutines that would be attached to commercial FEA code. We're trying to do this in a standardized way."
Project members are developing what Allison thinks of as information depositories. "Data in those depositories can be the results of experiments or simulations, so a big part will be developing the ability to use data we have created as a collaboration tool," he said. "We'll also put some of our data in what's called the materials commons, but mostly that data is used to build these models. Some of it would be proprietary to LIFT, and it's probably more aimed at metallurgists than design engineers. The design engineer would access that data through the models in the subroutines."
Ann R. Thryft is senior technical editor, materials & assembly, for Design News. She's been writing about manufacturing- and electronics-related technologies for 27 years, covering manufacturing materials & processes, alternative energy, and robotics. In the past, she's also written about machine vision and all kinds of communications.
Like reading Design News? Then have our content delivered to your inbox every day by registering with DesignNews.com and signing up for Design News Daily plus our other e-newsletters. Register here!