It's no secret that there are entire wavelengths of light invisible to the human eye. Animals and insects have eyes that can filter light and polarize it to all sorts of benefits like seeing in the dark and hunting prey. For a more in-depth definition you should consult your old college physics book, but the idea of polarized light is that it oscillates on a single plane, as opposed to scattered around like normal sunlight or lamp light.
You've probably seen cameras use polarization filters to enhance or remove certain colors in a shot. But this is really only the tip of the iceberg. Long story short, if a human could see in polarized light he or she would be able to detect all sorts of things normally invisible to the naked eye.
Enter the polarimetric camera.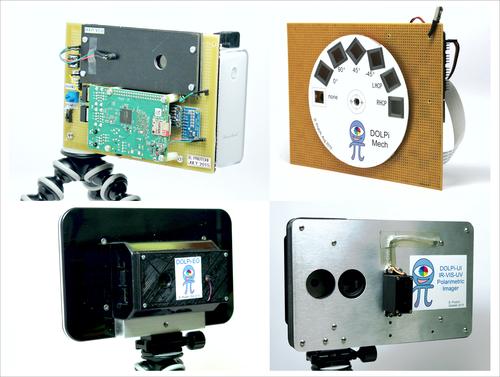 Design News reader David Prutchi has come up with a project - the DOLPi - an affordable, Raspberry Pi-based polarization camera that anyone can use to see polarized light. Aside from some interesting visuals you'll also gain the ability to detect unseen objects like pollutants and hidden explosive devices (if you're the sort of person concerned about that sort of thing...we don't judge).This project was a finalst in the 2015 Hack-A-Day competition.
Prutchi has included a whitepaper with highly detailed build instructions, a parts list, and Python source code to run the camera.
Watch the video below for an explanation of the DOLPi and to see it in action:
Download the full build instructions and parts list here
Want to submit your own project to Gadget Freak? Email us! Be sure to include "Gadget Freak" in the subject line.
As always, Gadget Freak is brought to you by Allied Electronics and Design News. You can recreate David Prutchi's gadget using the parts list below:
>

DOLPI-UI PARTS LIST












Component reference

Component/Material

Source

RasPi

Raspberry Pi 2 - Model B - ARMv7 with 1G RAM

Allied Stock#: 70465426

SD Card

SanDisk SAEMSD64GBU3 64GB
Extreme UHS-I microSDXC Memory Card (U3/Class 10)

B&H Photo

+5V Power Supply

5V 2A Switching Power Supply w/ 20AWG 6' MicroUSB Cable

Adafruit ID: 1995

RasPi NoIR Camera

Raspberry Pi NoIR Camera Board - Infrared-sensitive Camera

Allied Stk #: 70323539

RasPi Touchscreen

Pi Foundation PiTFT - 7" Touchscreen Display for Raspberry Pi

Allied Stk #: 70689378

Keyboard/Mouse

USB keyboard and mouse

Allied Stock#: 70472529

USB cable

USB male to USB micro male 6" cable
To connect Raspberry Pi to Pi Foundation PiTFT Touchscreen
Allied Stock#: 70591759

Lepton® Longwave Infrared (LWIR) Imager

FLIR Lepton® Development Kit

Sparkfun Part No. KIT-13233

Wires to connect FLIR Lepton®
Break-out board to Servo Hat

Premium Female/Female Jumper Wires - 40 x 12" (300mm)

Adafruit ID: 793

EMI filter for Lepton®

Fair-Rite P/N 0443164251/B1

Allied Stock#: R1057478

Servo Controller

Adafruit 16-Channel PWM/Servo HAT for Raspberry Pi

Adafruit ID: 2327

2 x Servos

Two HiTec HS-322HD heavy-duty standard-size ±90⁰ hobby servos

Jameco Part No. 395760

Optics





4 x Wire Grid Linear
Polarizer Film Filters

Four 14.5 mm x 14.5 mm filters cut from 80 mm x 50 mm Asahi KASEI wire-grid polarizing film sample.

MeCan Imaging

RHCP and LHCP Circular
Polarizer Film Filters

RHCP and LHCP polarizer films taken from RealD 3D movie glasses

RealD movie glasses

VIS Filter

1" diameter BG-39 glass filter

Edmund Optics Catalog Number 48637

IR Filter

1" diameter optical-cast plastic IR filter

Edmund Optics Catalog Number 43948

UV Filter

1" diameter BG-39 glass filter + 1" diameter UG-1 glass filter

Edmund Optics Catalog Number 48637 + 46047

Filter Retention Rings

Easy-Install Spiral Internal Retaining Ring,
Spring Steel, for 1" Diameter

McMaster-Carr Part Number 91663A570 (10 pack)

3D Printed Parts






Polarization Analyzer Filter Wheel

3D printed Polarization Analyzer Filter Wheel. Black PLA or ABS

DIY using FilterWheelSquare.stl

Bandpass Selection Filter Wheel

3D printed Polarization Analyzer Filter Wheel.
Bandpass Selection Filter Wheel. Black PLA or ABS

DIY using FilterWheelCircle.stl

Light Shield Enclosure Section

3D printed Polarization Analyzer Filter Wheel.
Light Shield Enclosure Section. Black PLA or ABS

DIY using LightShieldFrame.stl

Enclosure Back

3D printed Polarization Analyzer Filter Wheel.
Enclosure Back. Black PLA or ABS

DIY using EnclosureBack.stl

Mechanical Hardware






Front Plate and Main Chassis

Multipurpose 6061 Aluminum, Brushed Finish, 0.032" Thick. Front Plate and Main Chassis cut and drilled per templates

Machined from one sheet of McMaster-Carr Part Number 1651T11

Tripod Mount

Multipurpose 6061 Aluminum Rectangular Bar,
7/8" x 7/8" profile. Tripod mount machined per template.

Cut from McMaster-Carr Part Number 9008K13

4 x Chassis-to-Front Plate Standoffs

Four Aluminum Male-Female Threaded Hex Standoff,
1/4" Hex, 7/8" Length, 4-40 Screw Size

McMaster-Carr Part Number 93505A445

4 x Chassis-to-Touchscreen Standoffs

Four Aluminum Male-Female Threaded Hex Standoff,
1/4" Hex, 2" Length, 4-40 Screw Size

McMaster-Carr Part Number 93505A439

4 x Chassis-to-RasPi Standoffs

Four Aluminum Male-Female Threaded Hex Standoff,
1/4" Hex, 9/32" Length, 4-40 Screw Size

McMaster-Carr Part Number 93505A476

4 x RasPi to Servo Hat Standoffs

Four Aluminum Male-Female Threaded Hex Standoff,
1/4" Hex, 13/32" Length, 4-40 Screw Size

McMaster-Carr Part Number 93505A485

8 x Servo Standoffs

Eight Aluminum Male-Female Threaded Hex Standoff,
1/4" Hex, 11/32" Length, 4-40 Screw Size

McMaster-Carr Part Number 93505A482

¼" 4-40 screws

18-8 Stainless Steel Pan Head Phillips Machine Screw,
4-40 Thread, 1/4" Length

McMaster-Carr Part Number 91772A106 (100 pack)

RasPi Standoff Screws

18-8 Stainless Steel Pan Head Phillips Machine Screw,
4-40 Thread, 3/16" Length

McMaster-Carr Part Number 91772A105 (100 pack)

4/40 nuts

Type 18-8 Stainless Steel Hex Nut, 4-40 Thread Size,
1/4" Wide, 3/32" High

McMaster-Carr Part Number 91841A005 (100 pack)

LEPTON screws

18-8 Stainless Steel Flat Head Phillips Machine Screw,
1-72 Thread, 1" Length

McMaster-Carr Part Number 91771A175 (50 pack)

LEPTON nuts

Low-Strength Steel Hex Nut, Zinc Plated,
1-72 Thread Size, 5/32" Wide, 3/64" High

McMaster-Carr Part Number 90480A002 (100 pack)

RasPi NoIR camera screws

Nylon Pan Head Machine Screw, Phillips, 2-56 Thread, 1" Length

McMaster-Carr Part Number 93135A019 (100 pack)

RasPi NoIR camera nuts and LEPTON spacers

Nylon 6/6 Hex Nut, 2-56 Thread Size, 3/16" Wide, 1/16" High

McMaster-Carr Part Number 94812A100 (100 pack)

Hub screws and nuts

0-80 Thread Size machine screws

Ace Hardware

Miscellaneous






Glue

White paper glue to retain polarizing film filters

Office supplies store

Double-sided tape

Heavy-duty double-sided tape to adhere EMI filter to Chassis plate

Office supplies store

Adhesive tape

½" adhesive tape to tack front servo wire to Front Plate

Office supplies store














DOLPI-EO Electro-Optic Polarimetric Camera












Component reference

Component/Material

Source

RasPi

Raspberry Pi 2 - Model B - ARMv7 with 1G RAM

Allied Stock#: 70465426

SD Card

SanDisk SAEMSD64GBU3 64GB Extreme
UHS-I microSDXC Memory Card (U3/Class 10)

B&H Photo

+5V Power Supply

5V 2A Switching Power Supply w/ 20AWG 6' MicroUSB Cable

Adafruit ID: 1995

RasPi Camera

Raspberry Pi Camera Board

Allied Stk #: 70280250

RasPi Touchscreen

Pi Foundation PiTFT - 7" Touchscreen Display for Raspberry Pi

Allied Stk #: 70689378

Keyboard/Mouse

USB keyboard and mouse

Allied Stock#: 70472529

D1

Blue LED (rectangular, ground to 4mm height)

Radio Shack 276-0013

R1

270 Ω, ¼ W

Allied Stk #: 70183331

R2

7mm diameter CdS LDR

Any electronic parts store

R3

10 kΩ, ¼ W

Allied Stk #: 70022898

R4

22 kΩ, ¼ W

Allied Stk #: 70063067

R5

100 kΩ trimmer potentiometer

Allied Stk #: 70154049

C1, C2

0.01 µF monolithic

Allied Stk #: 70186297

C3, C5

0.1 µF monolithic

Allied Stk #: 70186301

C4

10 µF / 25V tantalum

Allied Stk #: 70195923

Perfboard (will eventually be PCB)

0.1" x 0.1" pefboard cut to 98 mm x 55 mm

Allied Stk#: 70219540

GPIO Header

Extra-tall stacking 40 pin header

Adafruit ID: 19179

U1

MAX392 or similar low-impedance N.O. quad analog switch

Mouser Electronics Part No. 700-MAX392CPE

U2

CD40106 Hex Schmitt Trigger Inverters

Mouser Electronics Part No.595-CD40106BE

VCPA

VCPA hacked from auto-darkening welding mask filter per text

Online (Amazon, eBay, etc). Filter manufactured by "Mask" www.auto-mask.com (see Figure 13)

ADC

ADS1015 Breakout Board - 12-Bit ADC -
4 Channel with Programmable Gain Amplifier
Allied Stock#: 70460623

DAC

MCP4725 Breakout Board - 12-Bit DAC w/I2C Interface

Allied Stock#: 70460904

Mechanical






LCP Enclosure

3D-printed enclosure

3D-print DOLPi3.stl

Enclosure

Raspberry Pi Touchscreen Enclosure; For Use With:Raspberry Pi 7"Touch Screen with Pi B+ or Pi 2 Boards;
External Height: 131mm;
External Width: 213.2mm; External Depth: 51.5mm;

Element14 Catalog No. 55Y8475

Camera mounting screws

Four M2.5 x 1" nylon machine screws and eight matching nylon nuts

Hardware store

Tripod mounting block

¾" x ¾" x 4" aluminum machined as shown

Machined from McMaster-Carr 9008K12
Images via David Prutchi