The commerical space pioneer Jeff Bezos -- better known as the founder and CEO of Amazon.com -- hasn't let the failure of a unmanned rocket dampen his ardor for building a business that will be able to take passengers to the edge of outer space. And he's working to get the patents to prove it.
His space venture, Blue Origin, is based not far from Seattle in Kent, Wash., with a separate launch complex in Texas. According to its Website: "Blue Origin is developing New Shepard, a rocket-propelled vehicle designed to routinely fly multiple astronauts into suborbital space at competitive prices."
That's a tall order, though a number of companies are aiming for similar heights under the umbrella of NASA's Commercial Reusable Suborbital Research program. The most notable of them is SpaceX, which was started by PayPal co-founder and Tesla Motors chairman Elon Musk. In June, SpaceX successfully launched its Falcon rocket.
Click this image to see three diagrams from Blue Origin's patent applications, discussed below: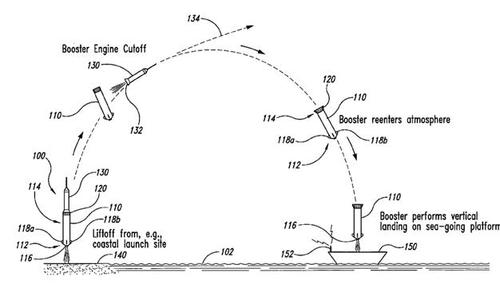 Diagram from Blue Origin patent application 20110017872, "Sea Landing of Space Launch Vehicles
and Associated Systems and Methods."
Bezos wasn't as fortunate with Blue Origin's latest launch attempt in August. The company's second test vehicle reached a speed of Mach 1.2 and an altitude of 45,000 feet, but then it encountered what Blue Origin called "a flight instability [which] drove an angle of attack that triggered our range safety system to terminate thrust on the vehicle."
The Blue Origin launch attracted lots of attention not because it wasn't successful -- spaceflight in general, and commercial spaceflight in particular, is rife with false starts -- but because Bezos has been so secretive in doling out news on the company's progress. The failed flight took place August 24; Blue Origin posted a one-paragraph notice in early September.
Another angle to the Blue Origin story which heretofore seems not to have come to light is its activity on the patent front. In January, Bezos, along with Blue Origin colleagues Gary Lai and Sean Findlay, filed application number 20110017872 for a patent entitled "Sea Landing of Space Launch Vehicles and Associated Systems and Methods."
The interesting twist here is that Blue Origin is aiming at reuse of its spacecraft, including recovery from a ship on which the vehicle makes a vertical landing.
Here's the relevant language from the patent application abstract:
A reusable space launch vehicle is launched from a coastal launch site in a trajectory over water. After booster engine cutoff and upper stage separation, the booster stage reenters the earth's atmosphere in a tail-first orientation. The booster engines are then restarted and the booster stage performs a vertical powered landing on the deck of a pre-positioned sea-going platform... After landing, the sea-going platform can be towed... to transport the booster stage back to the coastal launch site or other site for reconditioning and reuse.
A second application of interest, number 20100326045, was filed by Gary Lai on December 30, 2010. Entitled "Multiple-Use Rocket Engines and Associated Systems and Methods," it clearly seems to describe the guts of Blue Origin's New Shepard suborbital vehicle. New Shepard is a two-stage rocket, and the engine components are recoverable for reuse.
Finally, if you're a mechanical engineer, Blue Origin might have a career path for you. The company currently has 13 job postings on its site, including one for a mechanical systems engineer whose duties would include "design, development, and test of ordnance, actuation systems, umbilicals, deployable devices, environmental control/pneumatic systems, crew seats, and abort systems." Aerodynamics, avionics, structural, and test engineers are also being sought.