Here's a lucky 13 collection of weird and cool Halloween gadgets. Clearly, zombies are in this year – taking over from a decade of vampire dominance in Halloween fashion. Some of the items in this year's collection come at a hefty price, but it might be worth it depending on how dedicated you are to frightening your friends and neighbors.
Click on the image below to begin slideshow:
Do you have any favorite gadgets or props you like to pull out on Halloween? Let us know in the comments!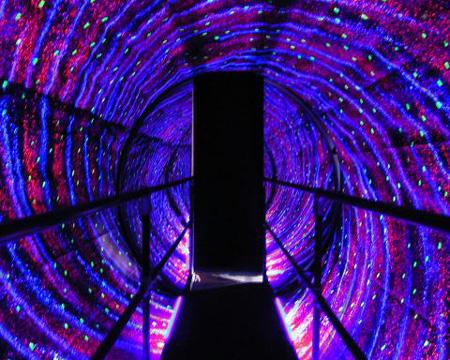 The most terrifying quality of this contraption is the price tag: $7,877. The Animatronic vortex tunnel rotates around a walking platform, complete with trippy blacklights and illuminated artwork. There's even a version that employs 3D-printed fabric that can be viewed with glasses.
(Source: nerdapproved.com)
READ MORE ARTICLES ON GADGETS:

We're heading to Philly and Houston! Design & Manufacturing Philadelphia will take place Oct. 7-8, while Design & Manufacturing Texas will be in Houston Oct. 13-14. Get up close with the latest design and manufacturing technologies, meet qualified suppliers for your applications, and expand your network. Learn from experts at educational conferences and specialty events. Register today for our premier industry showcases in Philadelphia and Texas!
Rob Spiegel has covered automation and control for 15 years, 12 of them for Design News. Other topics he has covered include supply chain technology, alternative energy, and cyber security. For 10 years he was owner and publisher of the food magazine Chile Pepper.