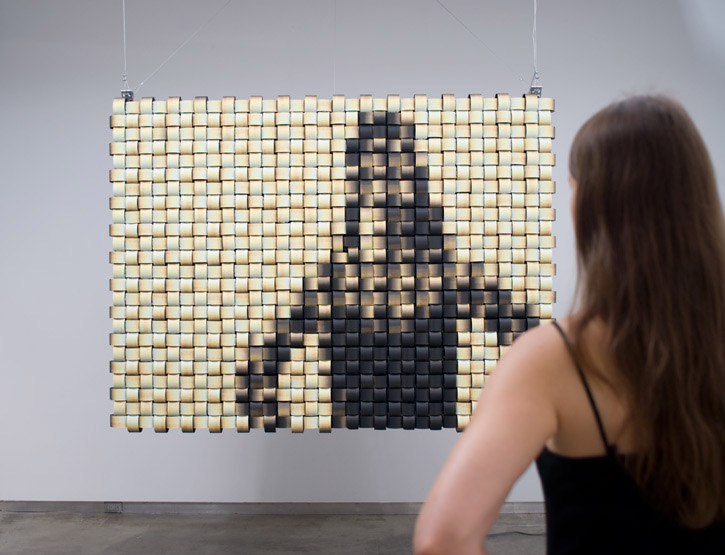 Daniel Rozin is an artist who works in traditional media such as wood, metal, and mirror, combining them with cameras and computers to produce unconventional interactive art.  In the photo to the right you see what appears to be a highly pixelated reflection of the woman in the foreground.  The "mirror" is composed of 768 round laminated wheels, laid out in a basket weave pattern.  Each wheel has a greyscale pattern applied to it such that as it rotates it fades from light to dark.
The artwork includes a video camera  to capture what is immediately in front of the panel.  The images are digitized, reduced in resolution, and the resulting pixels are mapped to positions of each individual wheel.  The panel is continually updated as the subject moves.  Since it takes time to position the wheels, the mirror displays an interesting pattern of motion blur while the subject is moving. In this case it's true that a video is worth 1000 words (or still photos).
This is not the only large interactive mirror that Rozin has created. There are mirrors using wooden flaps, wooden pegs, trash, small pieces of mirror, and more.  The mirrored mirror is interesting because only the subject can see the resulting image.  The wooden flap mirror was part of a university computer course, which includes an informative video about the piece.
Most of Rozin's pieces involve interactive mirrors, but only some of them have mechanical elements.  Others use just cameras and displays, with software providing a modified version of what the camera sees to the user. Take a look at some of the pieces in the Software Mirror collection — I like the Time Ripples mirror.  Of his non computerized works, Broken Mirror is also an interesting piece.
Steve Ravet
EDN Gadgeteer/art critic