Carlos Flores, a 10th-grade student, created a replica of a helmet worn by the electronic music duo Daft Punk. The front of this silver chrome helmet has a full LED matrix display that illuminates words and patterns. To shape the helmet, Carlos used a baseball helmet and cardboard. He added fiberglass and Bondo to give it structural integrity, and he smoothed it down to paint it.
Inside, the electronics include an 8x32 LED matrix array with LED drivers. An MSP430 LaunchPad controls the sequence of LED patterns. Carlos got help from his dad, Luis, to cycle through a lot of patterns and words and figure out what looked best.
The project was presented at DESIGN West.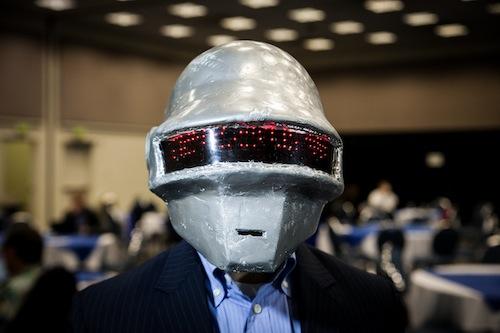 The editors of Design News have handpicked your favorite Gadget Freak cases from over the years, bringing them together in a dynamic digital edition, complete with videos, which you can view here.