Adam Allevato and his team of fellow mechanical engineering students at Colorado State University in Fort Collins have created a human-like hand that can be operated in environments that are toxic to humans.
The Glove-Operated Digitally Synced Hand is a mechanical device whose movement can be controlled remotely. The hand was created for use in environments that are too dangerous for humans, but still need the dexterity of a human hand. The students see the hand as an effective tool for bomb diffusing and for work in contaminated nuclear reactors.
Click the image below for a close-up view of the Glove-Operated Digital Hand: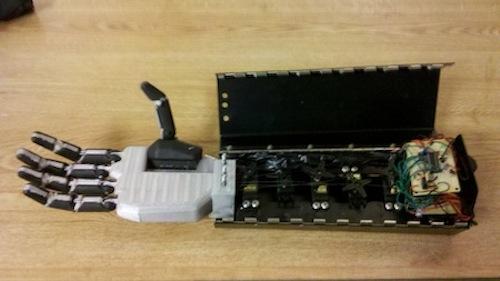 The PIC for the hand is mounted on one of two protoboards along with the other required electrical components, and the protoboards are mounted vertically in the base of the forearm.
Read more Gadget Freak cases here.

Do you have a Gadget Freak project you would like the world to see? Send a brief description of your gadget and a photo to Senior Editor Rob Spiegel.

{table 1} {table 2} {videoembed|240194}