Sensors for the Internet of Things (IoT) can come with some hefty power requirements. Particularly at a large scale, the energy demands of high quality sensors and high energy wireless protocols add up quickly. A battery-based solution isn't ideal for maintenance reasons, and the disadvantages of wired power when talking about the IoT should be obvious.
The answer, according to Phoenix-based ON Semiconductor, is an IoT sensor that not only collects data and connects to a network, but is also able to power itself. The company's family of battery-free wireless sensors, known as Smart Passive Sensors (SPS), are UHF RFID Gen 2 wireless sensors that are able to harvest energy directly from the RF signal itself. With no need for a battery, ON Semiconductor is able to put multiple sensors and integrated circuits onto a single chip (about the thickness and flexibility of a strip of tape), meaning there's no need for a stimulus detector nor a microcontroller (MCU) unit at each sensing node. SPS can serve multiple sensors at once, all from a cloud-based central processing hub.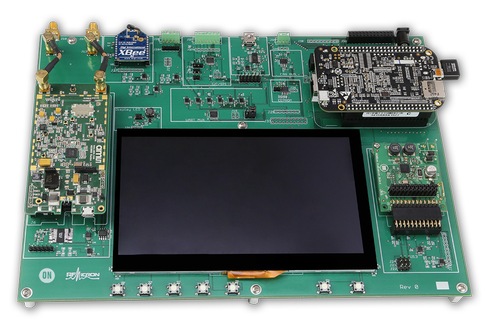 On Semiconductor's IoT Platform Development Kit, SENSORRFGEVK, is built around its battery-free wireless sensing technology.
(Image source: ON Semiconductor)
"We use RFID because it has a high enough energy density that we can readily and easily carve it," Gary Straker, business unit VP and general manager at ON Semiconductor, told an audience at IoT World 2016 in a talk on battery-free wireless sensors. "We can pair up the sensor, take about 700 readings per second, and then broadcast the data we've collected back to the same RFID reader, all through this energy-harvesting technique."
The battery-free sensor is essentially made of three "function blocks" - an antenna, a unit to process electrical power, and a sensing block, which in this case is RFMicron's MagnusS2 sensor IC.
"Basically, you need an antenna that picks up RF energy. You take that and convert it through a charge pump to create a DC voltage, use that voltage to take your sense data, then you have a small radio that powers up to send RF data back to reader," Straker explained.
"There are many sensors on the market," he added. "Many of these sensors have all the elements required to take data, to record it, and broadcast it - most will have a battery; most will have some form of communication device embedded into the processor and the associated hardware that is required. This makes them quite expensive, quite large, and, of course, with a battery you need some sort of maintenance activity around that."
Without a battery those maintenance costs disappear and, because ON's sensors are focused on the edge node, the processor demand is lessened by placing the burden of analyzing the data on the cloud. "The concept that we're taking is that it's much cheaper, easier, and more efficient to take all of your data processing and move it away from the sensor and do it in the cloud," Straker said. Under this model, he said that you can have hundreds of sensors, "but your only scaling cost is the cost of the sensors, not the cost of the MCU and all of the hardware that goes with it."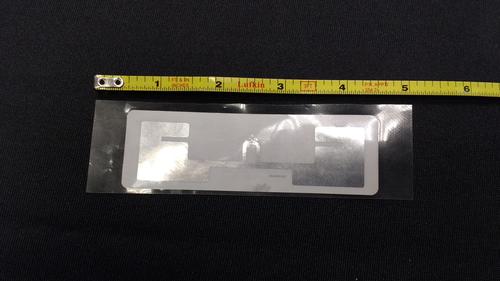 The SPS can be delivered in a form factor as thin and flexible as a strip of tape.
In an interview with Design News, Wiren Perera, ON Semiconductor's senior director of IoT strategy, said all of this fits into a larger company strategy that his team jokingly calls "low-power-ness." "You can pretty much put [a SPS] whereever you want - anywhere that's hard to get to, space constrained, and you want large-scale deployment at a low cost."
"We started off a few years ago talking about five to 10 years, then 10-plus years of battery life. Now we're really moving a lot more toward energy harvesting," Ryan Cameron, VP and GM of Industrial & Timing Products at ON Semiconductor, told Design News. "We believe a lot of the edge node will be battery-less."
Cameron said that his company also believes this movement toward low and battery-less power will also enable more bridging to assist with the IoT's notorious interoperabilty problem. Energy harvesting makes it feasible to design a system that won't have added costs based on a what type of wireless is protocol being used, as the energy won't come from a battery source. "We think that if you develop the lowest-power physical layer you're going to capture a lot more of these nodes. At that point we can be stack agnostic and run whatever protocol we want," Cameron said.
Perera pointed to one specific use case for the SPS in automotive. "There's a design line where they use the [SPS] on the manufacturing line to see if the car is property sealed," he said. "Basically, they put the car through a wash, they have these [sensors] inside of the car, and they look for moisture. It's going to save thousands of dollars."
However he noted that the potential applications for SPS are varied. Right now the sensors can pick up temperature, pressure, moisture, and proximity, but ON is working ways to measure gases and chemicals, as well. The sensors have potential to find applications across numerous industries from agriculture (where it can be used to monitor water or even to tag livestock), to home automation (temperature control and flood alerts), to factory automation (leak detection and power monitoring), all the way to medical applications such as patient monitoring. "You can imagine this in agriculture, you can imagine this in medical applications...it's really, really broad," Perera said.
"There are many, many more applications, which I'm sure we haven't even thought of," Straker said in his talk. "The IoT is big, it's growing; sensors are a very big part of that growth and we believe with this technology we can make that deployment easier by taking away need for power and hardwire connections."
ON Semiconductor has already made a development kit available for those looking to explore its SPS technology.
Chris Wiltz is the Managing Editor of Design News