The Department of Energy is trying to get the American industrial sector, which eats up more than 30% of the nation's energy requirements, to replace their legacy industrial motor systems with variable-speed drive (VSD) systems and incorporate recent advances in power electronics such as wide-bandgap (WBG) semiconductors.
In efforts to push for energy efficiency and reduce the size of equipment in energy-hogging industries, the DoE recently awarded $22 million in funding for five projects aimed at merging WBG technology with other advancements for large-scale motors. The projects, which are bolstering the DoE's Clean Energy Manufacturing initiative, are intended to build on the department's Power America Institute's research on semiconductors for power electronics by using WBG technology to drive high-speed industrial electric motors and systems.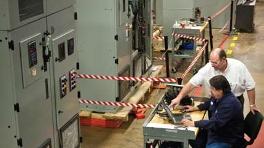 The organizations awarded the grants include Eaton, Calnetix Technologies, GE, Clemson University, and Ohio State University. Eaton, in collaboration with academic institutions, is using its grant to develop next-generation power conversion based on high-voltage silicon carbide (SiC) switching technology. The goal is to create high-power-density power distribution components for circuit protection, DC/DC conversion, and VSD.
To meet the challenging power density requirements of an integrated drive, Eaton is developing a drive topology that incorporates high-current 15kV SiC devices and high-frequency magnetic components, according to Pat Hickey, director of marketing for Eaton's Power Distribution and Control Assemblies Division.
"Eaton is developing a VSD that will operate at greater than 99% efficiency and achieve 10 times the power density of silicon-based drives," Hickey told Design News. "The drive will be integrated with a 1 megawatt, 15,000 rpm permanent magnet motor. The integrated motor and drive will support greater than 96% efficiency in a VSD-integrated, gearless compressor motor package."
The company is using its existing SC9000 drive technology as a foundation for the next-generation drive in development. The resulting high-speed motor is expected to be significantly smaller than a traditional low-speed motor, and the use of SiC devices will avoid the need for a gearbox. This will make the motor ideal to address challenges in oil and gas, mining, utility, and water and wastewater operations.
READ MORE MOTOR DESIGN ARTICLES ON DESIGN NEWS:
"For example, one such application is an offshore oil platform where space is extremely limited," Hickey told us. "The technology in development will integrate the VSD with the motor, helping to free up significant space in the electrical room that can then be used for other equipment. The VSD drives in development will also provide important advantages in the remote pumping stations that many mining operations and midstream companies require to support their processes. These stations currently use costly buildings to house the VSDs that run pumps or compressors for water or oil or gas. Under the DoE project, Eaton is developing VSD technology that avoids the need for the VSD housing and could allow these types of projects to be completed in less time and at a lower overall cost."
The DoE hopes the new technology initiatives could contribute toward its goal for the nation of reducing industrial electricity consumption by 2% to 4%, which would lead to $2.7 billion in annual energy savings, reduce up to 27 million tons of carbon emissions each year, and create more high-quality manufacturing jobs.
Tracey Schelmetic graduated from Fairfield University in Fairfield, Conn. and began her long career as a technology and science writer and editor at Appleton & Lange, the now-defunct medical publishing arm of Simon & Schuster. Later, as the editorial director of telecom trade journal Customer Interaction Solutions (today Customer magazine) she became a well-recognized voice in the contact center industry. Today, she is a freelance writer specializing in manufacturing and technology, telecommunications, and enterprise software.
[image via Eaton]
Like reading Design News? Then have our content delivered to your inbox every day by registering with DesignNews.com and signing up for Design News Daily plus our other e-newsletters. Register here!

Design News will be in Minneapolis and Orlando in November! Design & Manufacturing Minneapolis will take place Nov. 4-5, while Design & Manufacturing South will be in Orlando Nov. 18-19. Get up close with the latest design and manufacturing technologies, meet qualified suppliers for your applications, and expand your network. Learn from experts at educational conferences and specialty events. Register today for our premier industry showcases in Minneapolis and Orlando.