Thanks to a team of mechanical engineers at the University of Wisconsin-Madison, design engineers now have Web access to 3D design-optimization software that will help them more quickly create parts that are cheaper to produce and weigh less.
The engineers—led by UW-Madison mechanical engineering Professor Krishnan Suresh—developed the software program called ParetoWorks that's been available as a free plug-in for SolidWorks since 2013. But now they've released a Web-based version, making the software—which researchers said some users have called a "gift from heaven"—more widely available.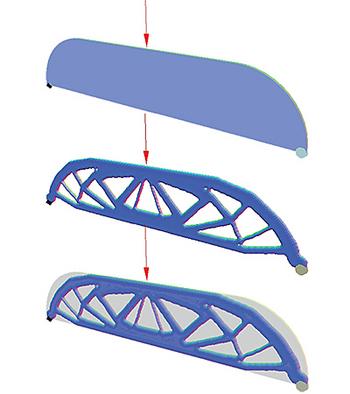 The graphics show a hypothetical structural problem: the component must hold up under the stress of an applied force, represented by the arrows. The top image represents the component before optimization, while the following images show the component optimized by software designed by a team at the University of Wisconsin-Madison led by mechanical engineering Professor Krishnan Suresh. The software has recently been released to the Web.
Source: Krishnan Suresh, University of Wisconsin-Madison
"We've been getting a lot of positive feedback," Suresh said of the software, which allows designers to optimize part design for myriad products, vehicles, and devices—from bicycles and airplanes to bridges and furniture. It does this by helping them quickly identify how component shapes, or topologies, maintain their structural integrity while using the least amount of material possible.
This design optimization "lies at the heart of modern engineering," Suresh said, because by using fewer materials, parts are both less expensive to produce and weigh less while increasing quality. These are the key goals of design engineering and critical to innovation today, he said.
While the design optimization ability of the tool is not new, the speed with which it can identify an optimized shape for an object—in mere seconds—is much faster than other available software and beyond what most humans can do, he said.
"To the best of our knowledge, this is the first implementation of a full-fledged 3D cloud-based design optimization," Suresh said. "It's an accomplishment that even large corporations are struggling to match."
The National Science Foundation, Sandia National Laboratories and Autodesk include those who have funded the work of Suresh and his team. The engineers also have been working with local design companies such as Madison-based Design Concepts to continuously improve the product.
The next goal for the software is commercialization, Suresh said. For that the team has partnered with Jon Eckhardt, a professor at the Wisconsin School of Business and the executive director of the Weinert Center for Entrepreneurship at UW-Madison, to explore creating a spinoff company.

We're heading to Philly and Houston! Design & Manufacturing Philadelphia will take place Oct. 7-8, while Design & Manufacturing Texas will be in Houston Oct. 13-14. Get up close with the latest design and manufacturing technologies, meet qualified suppliers for your applications, and expand your network. Learn from experts at educational conferences and specialty events. Register today for our premier industry showcases in Philadelphia and Texas!
Elizabeth Montalbano is a freelance writer who has written about technology and culture for more than 15 years. She has lived and worked as a professional journalist in Phoenix, San Francisco and New York City. In her free time she enjoys surfing, traveling, music, yoga and cooking. She currently resides in a village on the southwest coast of Portugal.