Over the course of product development – from prototype to manufacturing – the design team will use a variety of design tools, from CAD drawings to fluid and materials analysis. Other commonly used include modeling and visualization tools as well as PLM and PDM platforms. To further complicate the process, design teams are often juggling multiple versions or CAD or visualization programs.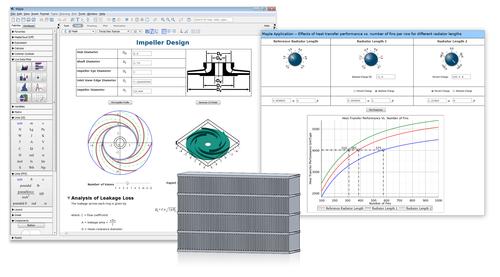 This screenshot show a blend of Maplesoft Simulation and SolidWorks CAD.
(Source: SolidWorks)
To make life easier on the design engineer, many software companies are reaching out to their counterparts to create integration among their tools. The goal is to make it easier for the user to switch from one design program to another without switching computers or even programs. The trend is going widespread. Here are just a few recent examples.
Maplesoft CAD integrates with SolidWorks
In some cases, one tool simply becomes part of another company's ecosystem as a certified partner. The blessing from one company to another typically includes easy integration. Maplesoft has become a Dassault Systèmes SolidWorks Certified Solutions Partner. The partnership will allow for Maplesoft's modeling and simulation tools to easily integrate with the SolidWorks CAD and CAE platforms. The integration will allow design engineers to more easily analyze how mechanical CAD models behave as part of a larger multi-domain system.
BigLever PLE brings in No Magic visualization
Product line engineering (PLE) tools help the design team manage multiple features or iterations of a product family, such as the wide-range of features on a car. Creating a specific blend of features often requires a simulated model. Thus BigLever Software, a PLE platform company, has partnered with No Magic, a model-based engineering (MBE) firm, to deliver an integrated PLE/MBE solution.
The new integration of design software tools combines PLE's feature based variation management capabilities with the visualization, analysis, verification, and validation capabilities of MBE. The integration was designed to help companies develop product lines with greater efficiency as well as increased product quality and scalability while reducing complexity.
Arena/Triniti adapter automatically integrates PLM to ERP
As well as integrating with other design tools, the software often has to connect out to business software. To make it easier for the design team to link it ERP, Cloud-based PLM provider Arena Solutions has partnered with Triniti, an Oracle E-Business Suite (EBS) solutions firm, to produce a tool that provides integration between Arena PLM and the Oracle EBS ERP system. The Arena-Oracle Adapter was designed to automate the process of transferring changed product data from Arena to Oracle ERP, avoiding manual entry errors and ensuring that Oracle ERP is up-to-date.
Autodesk and Siemens PLM increase software interoperability
A design team using PLM is also like to use CAD. Managing PLM and CAD separately can be awkward and time consuming. To elevate the challenge, Autodesk and Siemens PLM have reached an interoperability agreement aimed at helping manufacturers decrease the costs associated with incompatibility among product development software applications. The companies want to help their customers avoid potential data integrity problems. The common goal is to streamline data sharing and thus reduce costs for companies with multi-CAD environments.
Siemens acquires simulation software supplier CD-adapco
In another instance, Siemens PLM took interoperability a step further, and instead of just integrating with a design software tool, the company bought the tool. Siemens PLM acquired CD-adapco earlier this year. CD-adapco is an engineering simulation company with software tools that include fluid dynamics, solid mechanics, heat transfer, particle dynamics, reactant flow, electrochemistry, acoustics, and rheology. "The goal was to increase of computational power for the design engineer," Stefan Jockusch, VP of strategy for Siemens PLM, told Design News. "By using CD-adapco, our customers can take a three-day simulation down to one day or just a few hours while using the same computer."
Learn more at Atlantic Design & Manufacturing June 14-16, in New York.
Rob Spiegel has covered automation and control for 15 years, 12 of them for Design News. Other topics he has covered include supply chain technology, alternative energy, and cyber security. For 10 years he was owner and publisher of the food magazine Chile Pepper.