Engineers wanting a first-hand look at the latest virtual reality (VR) technologies are going to get their chance at ESC Minneapolis this week. GigaParts, a custom PC retailer, is going to be on the show floor to demo two of its latest product offerings, high-end desktops targeted at VR applications, both as workstations and gaming computers.
GigaParts began as a computer reseller that found early success in the days of HAM radio. But in the late 90s, when the custom PC market boomed, GigaParts pivoted into the business of creating its own custom builds and never looked back. Daniel Imsand, product manager at GigaParts, told Design News that the company has wanted to get into creating VR machines for some time. "This is something we've wanted to do for 20 years now," he said. "And now that VR is obtainable we finally feel like it's the future." 
GigaParts has debuted two lines of VR desktops -- the Ascension and the Colossus. The Ascension series (the Ascension Unlocked and Ascension VR) are targeted more at gaming enthusiasts, with an eye toward easy upgradability. At $2,099 and $3,099, respectively, the Ascension PCs are targeted to compete with similar gaming machines offered by companies like Alienware. The Colossus series ( the Colossus VR and VR SLI) are GigaParts' real powerhouse systems. All of the GigaParts systems are Scalable Link Interface (SLI) ready, allowing for two or more video cards to run in parallel for even better performance, and the Colossus VR SLI comes with two NVIDIA GeForce GTX GPUs already loaded in.
---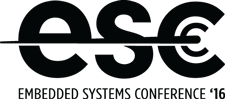 Experience Virtual Reality at ESC. Try a hands-on demo with some of the latest VR technologies, courtesy of GigaParts at the Embedded Systems Conference, Sept. 21-22, 2016 in Minneapolis. Register here for the event, hosted by Design News' parent company, UBM.

---
Imsand said ESC attendees will be able to demo systems from both series. The Ascension PCs will be operating an Oculus Rift and the Colossus a HTV Vive. Both will be running a series of tech demos as well as games that onlookers will be able to watch via a big screen setup.
For attendees who may be new to VR, he said GigaParts is hoping to spark ideas as well as learn how it can help its customers embrace VR. "We're really trying to get everyone's gears turning on how they can implement VR into their workflow," Imsand said. "There are a lot of potential applications for VR and a lot demos that may cover what [customers] need.
What we really want is to give everyone at ESC a taste of what we think is the future. We're also definitely interested in hearing how VR may help them. So you can say we're also going to be at ESC to learn, as well."
Do you have experience with VR? Tell us about your experience in the comments.
READ MORE ARTICLES ON VIRTUAL REALITY:
Chris Wiltz is the Managing Editor of Design News