solidThinking has released Evolve 2015, an enhanced version of it modeling tool that was designed to make 3D concept creation and modeling faster, easier, and more realistic. The release features rendering technology, an enhanced user interface, and a new PolyNURBS toolset. Users can now convert polymesh objects into NURBS curves and surfaces with a single click.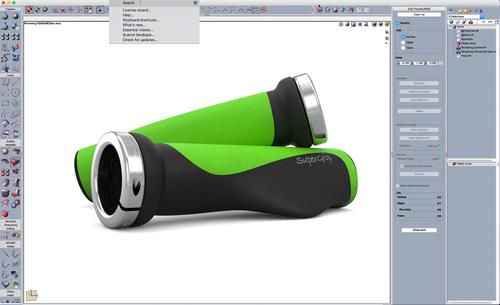 One of the advantages of the new release is the ability for users to accomplish different methods of modeling in one tool. "In modeling there are three types: surface modeling, solid modeling, and polygonal modeling, which is used in movies and special effects," Darren Chilton, program manager for Evolve at solidThinking told Design News. "Each one of these methods has its pluses and minuses. Your design might lend itself to one or another method. So instead of buying three tools, they're all in Evolve 2015 in one package."
Chilton noted that adding polygonal modeling and state-of-the-art rendering makes Evolve the Swiss army knife of modeling and rendering software. He also explained that new visualization features streamline the rendering process while adding more textures, color, and material choices. solidThinking has also upgraded the user interface to improve functionality, making it easier to communicate concepts.
"Evolve is a tool that starts from very early on 2D sketching and moves through 3D and on to industrial and manufacturing modeling," said Chilton. "With the new release, editing and changes are easier and you get photo-realistic rendering that isn't available with other products."
With Evolve, industrial designers can use either a Windows PC or Mac. The software was designed to capture an initial sketch, allowing exploration of styling alternatives and the visualization of products with renderings generated in real time. It was designed to combine the modeling freedom of organic surfaces and the control of parametric solids with a history feature. "What makes Evolve different is this is the designs are tied together through a construction history," said Chilton.
[image via solidThinking]
Rob Spiegel has covered automation and control for 15 years, 12 of them for Design News. Other topics he has covered include supply chain technology, alternative energy, and cyber security. For 10 years he was owner and publisher of the food magazine Chile Pepper.
Like reading Design News? Then have our content delivered to your inbox every day by registering with DesignNews.com and signing up for Design News Daily plus our other e-newsletters. Register here!