FinalCode, a company that offers security protection for CAD files wherever they go, is now part of the Autodesk Developer Network. The tool provides security as CAD files are shared among Autodesk users and beyond to their supply chain partners. FinalCode for CAD is an add-on integration option for the Autodesk file collaboration security platform.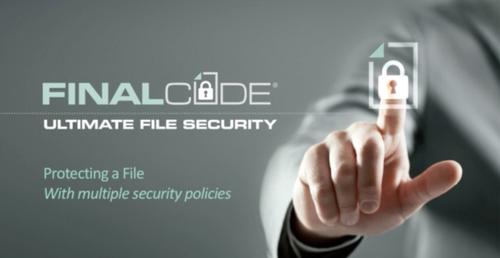 FinalCode adds AES-256 data encryption, usage permissions, auditing, and remote delete capabilities for Autodesk file collaboration in a way that is designed to be flexible, and cost-effective. The tool enhances security controls for those collaborating with Autodesk files, as well as Acrobat files derived from Autodesk
FinalCode was developed in Japan in 2013. In 2014, Autodesk took the tool and developed FinalCode US. Autodesk then brought it to the global market in 2015. "It was developed because the founders recognized the risk of sending sensitive design files," Scott Gordon, COO of FinalCode, told Design News. "They developed application support for Autodesk, and we provided its availability to all the latest editions for AutoCAD. We saw the opportunity to get the word out and bring it to the Autocesk Developer Network."
The goal of FinalCode is to protect CAD files when they are shared beyond the owner's environment. "Once you send a CAD file or Autodesk Adobe file to users outside your environment, you lose control over where it's going or how it's used," said Gordon. "With FinalCode you have control over who can see the file and how it's used and you can restrict unauthorized use."
Autodesk has cloud services, and within the cloud services, it provides security. Within Autodesk's platform, AutoCAD 360 allows you to share files and view files and edit files, but that's when you're connected and online and other people have joined the Autodesk environment. "Not everybody has joined the cloud implementation of Autodesk and sometimes you have to send files or Adobe derivatives of those files outside the Autodesk platform," said Gordon. "Then you lose security."
FinalCode was also designed to provide protection in any environment the file may travel, from thumb sticks to smartphones. "FinalCode can be used within any infrastructure, whether it's thumbnails or email or uploading to an FTP site or sending it to Google drive," said Gordon. "That gives users a lot of flexibility. We never take ownership of the file, so it stays with the design firms."
[image via FinalCode]
Rob Spiegel has covered automation and control for 15 years, 12 of them for Design News. Other topics he has covered include supply chain technology, alternative energy, and cyber security. For 10 years he was owner and publisher of the food magazine Chile Pepper.
Like reading Design News? Then have our content delivered to your inbox every day by registering with DesignNews.com and signing up for Design News Daily plus our other e-newsletters. Register here!