High-tech devices are simply a means to an end. Sure, tech junkies salivate over product features and capabilities, but most consumers simply want their products to deliver them personal enrichment. In other words, they want a grade-A user experience (UX). Otherwise, the product is a non-starter.
Cell phones, as an example, are no longer just for communication. They are also platforms for entertainment, information, connectivity, photography, and other experiences. And the positive experience factor extends not only to consumers now, but also users of industrial machinery and the buying process itself.
"This is the 'Age of Experience,'" said Monica Menghini, executive vice president and chief strategy officer at Dassault Systemes. Speaking at the software developer's 3DExperience Forum in Boston in mid-November, Menghini said the ability to combine UX and technological innovation in product design is critical to today's marketplace acceptance.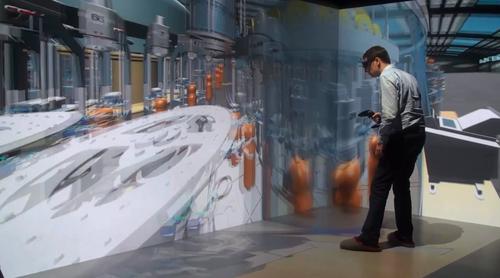 After making changes to a blow molding machine, engineers generated a 3-D image of the machine to inspect and validate the upgraded design. (Source: Dassault Systemes)
While Dassault used Boston's 3DExperience (and a sister event in San Francisco on Nov. 19) to showcase its design and manufacturing software -- including Delmia, a collaborative global manufacturing and operations management program powered by the 3DExperience platform, and 3DExcite, which converts engineering data into real-time 3D visualizations – it informed attendees of the high stakes in creating engaging UX and the importance of embracing technology.
Design and technology innovations are emerging as engines of global economic growth, Menghini remarked. Many countries have programs to promote advanced technologies, as well as the digitalization of design and manufacturing, which she said optimizes product development and end-user benefits.
The US has initiatives in this area like the National Network for Manufacturing Innovation. Others Menghini cited included the UK's High-Value Manufacturing program; Industry 4.0 in Germany; France's Industry of the Future; Innovation 25 in Japan; Made in China 2025; Precision Manufacturing in Singapore; Creative Economy in South Korea; and Make in India.
The European Commission cites innovation as one of the five objectives in its Europe 2020 economic growth strategy.
READ MORE UX DESIGN ON DESIGN NEWS:
Menghini advised attendees to embrace holistic design, recommending them to think more about how innovative technology can be applied to enhance the operations and experiences consumers want from products, rather than focusing on appearance and other conventional concerns.
"Experience thinking is a framework for innovation," she said. Feedback from consumers regarding their needs and preferences, along with real-time collaborative input from suppliers and other project participants, is an important cog in this.
Dassault president and CEO Bernard Charles said in a presentation that the company has invested almost $2 billion in acquisitions and capabilities to develop and expand its technologies to meet evolving product development needs.
An example of design innovation and software coming together to meet customer needs came from Philippe Bartissol, Dassault's vice president of industrial equipment, at 3DExperience.
He relayed the story of a representative of a machinery maker who was flying overseas to pitch a carousel bottle blow molding machine to a customer and called engineers from the airport to ask if they could tweak the machine design to increase throughput to 50,000 bottles per hour from 45,500.
Using Dassault software, Bartissol said, the engineers spent several hours programming calculations, dragged-and-dropped a redesigned rotary head into the machine's Catia assembly design file, and then tested it via simulation. They next generated a life-size 3-D display and, using virtual reality goggles, inspected and validated the design -- all while the rep was in transit.
When the rep landed, he logged into his company's server and downloaded the images to his tablet — including one showing the machine operating with the redesigned rotary head. The rep was able to demonstrate to the buyer, entirely by simulation, that the machine met throughput needs.
"This is the new buying experience," Bartissol said.  
Like reading Design News? Then have our content delivered to your inbox every day by registering with DesignNews.com and signing up for Design News Daily plus our other e-newsletters. Register here!

Design engineers and professionals, the West Coast's most important design, innovation, and manufacturing event, Pacific Design & Manufacturing, is taking place in Anaheim, Feb. 9-11, 2016. A Design News event, Pacific Design & Manufacturing is your chance to meet qualified suppliers, get hands-on access to the latest technologies, be informed from a world-class conference program, and expand your network. (You might even meet a Design News editor.) Learn more about Pacific Design & Manufacturing here.
Pat Toensmeier has more than 30 years of experience writing for business-to-business publications. His main areas of coverage have been defense, design, manufacturing, technology and chemicals, especially plastics and composites. He has reported extensively on developments in these areas from the U.S. and Europe, and covered industry events as well in Brazil and Asia. Toensmeier has held various positions at major publishers such as the McGraw-Hill Companies and Hearst Corporation. A graduate of the University of Missouri, he is a contributing editor for several print and online publications. Toensmeier is based in suburban New Haven, Conn.