On April 14, you'll be able to buy what its makers say is the first real hoverboard: no wheels. That is, if you've got $14,900. Another $4,500 will get you an optional charger that puts your board back in action after half an hour, instead of six hours.
Even if you don't have the cash, just watching this video of the ArcaBoard will make you wish you did. The flight test looks impossible: but the hoverboard's inventors are the engineering team at ARCA Space Corporation, a company that builds space rockets, as well as UAVs and manned space vehicles. This is no toy.

Dumitru Popescu, ARCA Space CEO, tests the ArcaBoard personal flying machine, which is said to be the first no-wheels hoverboard. Production is scheduled for April 14, 2016.
(Source: ARCA Space)
The ArcaBoard maintains its maximum weight of 180 lb with an aerospace-grade composite structure. The structure, which weighs 22 lb, works as a good thermal insulator. It also houses 36 high-power electric ducted fans. That many fans, and motors, ensure continued operation even if several of the motors fail. Each motor is powered by its own separate set of batteries, and is independent of all the other powered units, which creates a system with multiple redundancy. They also generate an insane amount of power -- 203,000W -- and heat. That heat is dissipated via the board's forced cooling system.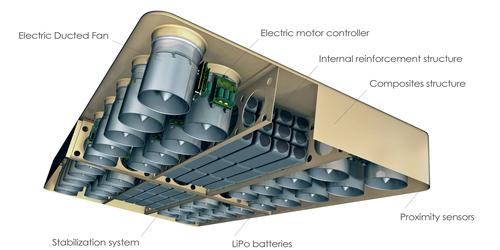 ARCA Space's ArcaBoard no-wheels hoverboard has an aerospace-grade composite structure that houses 36 independent, high-power electric ducted fans, motor controllers, batteries, a stabilization unit, and proximity sensors.
(Source: ARCA Space)
The 272-hp machine has a maximum speed of 12.5 mph. The board's Enhanced Thrust version can carry someone weighing up to 110 kg (243 lb) for three minutes before it needs recharging. The Long Endurance version lasts twice as long at six minutes, but for a rider weighing only up to 80 kg (176 lb). The ArcaBoard's built-in stabilization unit makes it a safe platform to hover or fly on, but you can turn off that system to steer the board with your body. Control and navigation can be done using your iOS or Android smartphone via Bluetooth, whether stabilization is on or off.
The off-the-box charger will recharge the ArcaBoard in six hours. An optional ArcaDock recharges the ArcaBoard in 35 minutes without cables. Click here for the board's full specs.
READ MORE ARTICLES ON COMPOSITES & HOVERBOARDS:
Ann R. Thryft is senior technical editor, materials & assembly, for Design News. She's been writing about manufacturing- and electronics-related technologies for 28 years, covering manufacturing materials & processes, alternative energy, machine vision, and all kinds of communications.