With the Internet of Things (IoT) poised to flood wireless networks with potentially billions of new connected devices, security is top of mind for engineers and designers to keep away would-be hackers and ensure information traveling on and devices linked to the IoT remain secure.
One area of early adoption is in manufacturing. As industrial companies go forward with the adoption of the IIoT, it's clear that they will be exposed to new security risks and must protect themselves. Still nascent in their rollout, companies are learning about the risks and coming up with methods of security to protect their assets -- industrial and otherwise -- from security threats.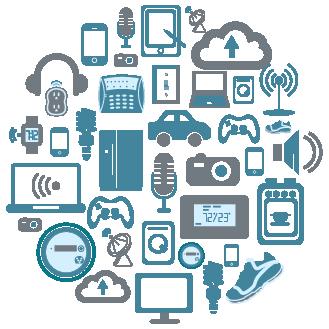 With the rapid adoption of the Internet of Things (IoT), security is becoming a top concern for engineers and designers of devices and solutions. IoT security is the subject of a new Design News ebook sponsored by Newark element 14 entitled "The Lowdown on High Security in the IoT."
(Source: Texas Instruments)
More Devices, More Risk
ABI Research estimates that the installed base of active wireless connected devices exceeded 16 billion in 2014 and is on its way to 40.9 billion by 2020. One survey of technology executives found that 62% of them had already adopted IoT systems or had plans to do so. However, 39% of those adopting the IoT said privacy and security are the top barriers to investment.
There is a good reason for that, as last year technology security firm Proofpoint claimed to have uncovered the first proven IoT-based cyber attack. In the attack, hackers took over about 100,000 connected household appliances -- including home routers, multimedia centers, televisions, and at least one refrigerator -- and used them as "botnets" to send out waves of 750,000 malicious emails. The incident proved the very real security threat of the IoT.
One of the world's most famous hackers, Kevin Mitnick, also demonstrated the vulnerability with the IoT at the Freescale Technology Forum in Austin, Texas, last year, when he randomly asked someone in the audience for their mobile device. Within minutes he extracted their phone number, date of birth, address, and even Social Security number from it, using a database that charges 50 cents per search. It was another bold lesson.
Security at the Device Level
With their being no question of the security risk of the IoT, experts are encouraging engineers to build security at the device level. One company that's taking this advice seriously is Icon Labs, whose founder and president, Alan Grau, argues that design engineers cannot trust that the appliance or network designer, manufacturer, or network manager will be able to provide strong cyber defense.
READ MORE ARTICLES ON THE INTERNET OF THINGS:
If devices are protected, they can remain secure even if network vulnerabilities are breached, according to Grau. To that end, Icon Labs provides a suite of security solutions called Floodgate for OEMs that build embedded devices. The product family provides intrusion-detection and intrusion-prevention capabilities that are designed specifically for use in embedded and RTOS-based devices.
"Security must be built into the device itself," Grau told Design News in a recent interview. Designing such protection "provides a critical security layer -- the devices are no longer dependent upon the corporate firewall as their sole layer of security. In addition, the security can be customized to the needs of the device."
With proper design from the ground up, Grau said, an endpoint can be "hardened" via such measures as "secure boot, authentication, and intrusion detection."
Challenges Ahead
Just knowing how to design IoT devices for security does not mean it always will be easy to do so. Embedded technology designers in particular have three key challenges as they approach the best way to develop technology for the IoT.
These include launch challenges to meet the rapid pace of adoption predicted for the IoT, which places a premium on such aspects as component integration and fabrication flexibility if designers and their companies are to gain and maintain market share in the fast-developing segments of the IoT space.
Embedded designers also will have to do less with more by developing smaller components that need more processing power than ever before while also extending battery life. This will require entire scalable processor families, from ultra-low-power, low-cost solutions to processors that provide maximum performance and are highly configurable.
Finally, designers also will face demands that software driving IoT devices can be flexible enough to meet the changing needs of applications and environments, but also the integrity to be secure enough to protect devices and systems from intrusion.
You can delve into more details on the risks, challenges, and potential solutions to IoT security in the new Design News Technology Roundup e-book: "The Lowdown on High Security in the IoT."
The e-book is sponsored by Newark element 14 and delivers latest insights into some of the top issues surrounding how to secure IoT devices and networks. Articles include: Security is Going Down to the Device; Cyber Attacks Fuel Security Innovations; Will Billions of IoT Devices Become Billions of Security Vulnerabilities?; World's Most Famous Hacker Shows the Vulnerability of IoT Devices; and The Anatomy of a Cyber Security Investment.
Elizabeth Montalbano is a freelance writer who has written about technology and culture for more than 15 years. She has lived and worked as a professional journalist in Phoenix, San Francisco, and New York City. In her free time she enjoys surfing, traveling, music, yoga, and cooking. She currently resides in a village on the southwest coast of Portugal.
Like reading Design News? Then have our content delivered to your inbox every day by registering with DesignNews.com and signing up for Design News Daily plus our other e-newsletters. Register here!

Design engineers and professionals, the West Coast's most important design, innovation, and manufacturing event, Pacific Design & Manufacturing, is taking place in Anaheim, Feb. 9-11, 2016. A Design News event, Pacific Design & Manufacturing is your chance to meet qualified suppliers, get hands-on access to the latest technologies, be informed from a world-class conference program, and expand your network. (You might even meet a Design News editor.) Learn more about Pacific Design & Manufacturing here.