What's topping the list of Americans' holiday wish lists this year? Internet of things (IoT)-related and other smart, connected gadgets, according to a recent survey.
MyDevices, which develops middleware platforms and application solutions for the IoT, polled more than 2,000 adults in the United States aged 18 and over in its "IoT for the Holidays" survey to determine their attitudes toward the IoT and connected technologies, and found that they were overwhelmingly positive.
So positive, in fact, that 61% of those polled said they wanted IoT gifts for the holidays, with 30% hoping for smart TVs, 19% for streaming media players, and 18% asking for smart watches.
Other IoT devices that are finding their way onto gift wish lists this year, according to the survey, included wearable fitness trackers (15%); smart-home thermostats (13%); IoT-enabled coffee makers (12%); smart-home lighting (9%) and do-it-yourself connected home security (9%).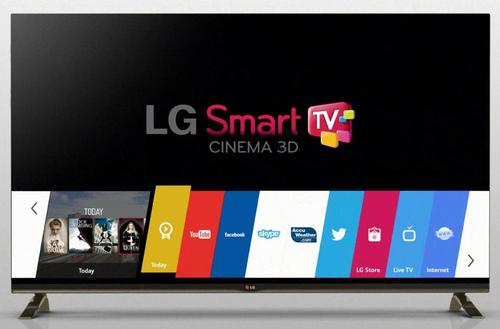 Smart TVs like ones from LG are topping the list of connected devices people want to receive as holiday gifts this year, according to a survey sponsored by myDevices.
(Source: LG)
"Smart TVs are an easy and obvious entry point into IoT, especially for those unfamiliar with what it is and promises to do," said Kevin Bromber, CEO of myDevices, in a press release about the survey. "But soon Americans' households and workplaces will be full of smart devices that make their lives easier. … We're on the brink of another technology revolution that will change the way we all live and work.
Bromber believes that in five years, 100% of American households will have connected devices and be actively using the IoT.
Predictably, the age of the respondent had a lot to do with their desire for receiving a smart gadget this year. Eighty percent of millennials ages 18 to 34 hope that someone will remember them with an IoT product this holiday season, followed by 66% of 35 to 44 year olds; 57% of 45 to 54 year olds; 52% of 55 to 64 year olds; and 41% of those 65 and older, the survey found.
People in different regions also responded differently to wanting IoT gifts, with people in the South and the West seeming to have slightly more interest in being gifted the technology this year than their counterparts in the Northeast and Midwest. Sixty-seven percent of respondents in the West said they wanted IoT gifts this year compared to 66% in the South, 56% in the Midwest, and 54% in the Northeast, according to the survey.
READ MORE ARTICLES ON THE INTERNET OF THINGS:
The survey -- conducted online within the US by Harris Poll on behalf of Bospar from Oct. 29 to Nov. 2 -- also found out a bit about the current habits of US households and their use of smart devices. Fifty-one percent of those surveyed said they have smart devices connected in their homes, with TVs again being the dominant device (35%). Other smart devices people are already using include streaming media players (23%); wearable fitness trackers (10%); home security systems (10%); smoke detectors (8%); home thermostats (8%); and home lighting (8%).
Millennials also led the list of those already owning connected devices, with 65% of those in the 18 to 34 age group saying they have them, according to the survey. This is compared to 57% of 35 to 44 year olds, 49% of 45 to 54 year olds, 40% of 55 to 64 year olds, and 37% of those over age 65.
At the same time, according to the survey, people with kids under age 18 also are adopting the IoT a bit earlier than those without children in this age group, with 71% of parents with children under 18 in the home saying that they have connected devices, compared to 43% of those without.
Elizabeth Montalbano is a freelance writer who has written about technology and culture for more than 15 years. She has lived and worked as a professional journalist in Phoenix, San Francisco, and New York City. In her free time she enjoys surfing, traveling, music, yoga, and cooking. She currently resides in a village on the southwest coast of Portugal.
Like reading Design News? Then have our content delivered to your inbox every day by registering with DesignNews.com and signing up for Design News Daily plus our other e-newsletters. Register here!

Design engineers and professionals, the West Coast's most important design, innovation, and manufacturing event, Pacific Design & Manufacturing, is taking place in Anaheim, Feb. 9-11, 2016. A Design News event, Pacific Design & Manufacturing is your chance to meet qualified suppliers, get hands-on access to the latest technologies, be informed from a world-class conference program, and expand your network. (You might even meet a Design News editor.) Learn more about Pacific Design & Manufacturing here.